A driver hit and killed Wan Mei Tan, a 64-year-old woman, at 16th and Valencia Streets in the Mission neighborhood Tuesday evening. From Mission Local's coverage on the day of the crash:
An elderly woman was struck by a driver in a crosswalk at 16th and Valencia Streets this evening, according to Officer Gian Tozzini, one of numerous police officers at the scene. Tozzini said he was told that the woman suffered life-threatening injuries, and she was taken to San Francisco General Hospital by an ambulance with the lights on and the sirens blaring. Police responded to the call at 5:51 p.m. and found that the driver struck the woman at the eastern intersection of the crosswalk while making a right turn from south to east, Tozzini said. The driver's turn was legal, and he remained at the scene, Tozzini said. The woman "may have fallen in the crosswalk prior to being struck — we're trying to determine that," Tozzini said at around 7 p.m. "We're still investigating."
"We grieve this loss of life on our streets, and hold the loved ones for Wan Mei Tan in our thoughts," said Jodie Medeiros, executive director of Walk San Francisco, in a statement. "Walk San Francisco and the San Francisco Bay Area Families for Safe Streets community stand ready to support the friends and loved ones of the victim however possible."
Later reports indicate that the driver may have been making a left turn, not a right. Either way, Tozzini's statement that the turn was legal is ridiculous. Mei Tan was in the crosswalk where she had every right to be. If indeed she slipped and fell before or after getting struck is immaterial.
A left turn is at least a little more understandable--thanks to decades of designing roads for maximum speed and throughput, drivers making lefts often get focused on oncoming traffic. They then gun it when they see an opening in traffic and neglect to check for pedestrians in the crosswalk.
But explaining it doesn't excuse it--not for the driver, not for the city.
SFMTA, as this publication has reported ad nauseam--including just Friday--has had approved plans to build protected bike lanes and intersections on Valencia for years. If the driver was making a right, a protected intersection would have forced them to slow down significantly while rounding the turn. If it was a left turn, protected intersections would reduce crossing distances by almost half on Valencia--reducing the exposure for someone crossing the street. SFMTA's ridiculous twice-rejected proposal for a center running bike lane doesn't do that.
As to the driver, were they texting? Eating a sandwich? Was the driver fully engaged in the safe operation of a potentially deadly vehicle? It's possible this was an innocent mistake, but one can rest assured the police won't even look into it. From their statement, they've already exonerated the driver, as they do in all but the most egregious cases.
Either way, it's unconscionable that the city would leave Valencia and 16th in such a dangerous state. If this was an "accident" in any sense of the word, then it was one waiting to happen. As put by Walk San Francisco in a statement:
The intersection where the crash occurred, 16th and Valencia Streets, is an especially busy and dangerous one. Within just the past two years, two pedestrians were injured here in crashes with left-turning drivers. On March 27, 2021, a 40-year-old man walking was severely injured. On March 14, 2021, a 32-year-old woman walking was injured.

Left turns are a significant threat to pedestrians. In 2019, 40% of pedestrians killed in San Francisco were hit in the crosswalk by a driver making a left turn. When a driver makes a left turn, they're more likely to make it at a higher speed and cut corners because they have a wider radius than with a right turn. Visibility is reduced for drivers, too, because the car's frame blocks a driver's view when they make a left turn.

"Left turns are deadly. The City knows this," said Medeiros. "And there are solutions, including no-turn-on-left and left turn calming, that aren't being used nearly enough."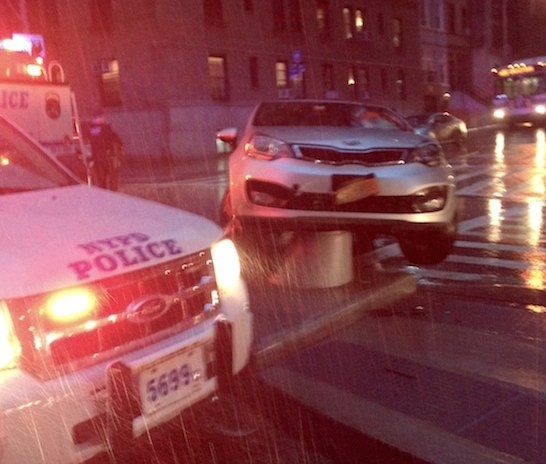 But we all know why these steps have not been taken: it would require parking reductions to install the physical infrastructure required to protect people not in cars and to force motorists to slow down. And the city, and the politicians who lead it, have made the monstrous choice to prioritize parking over people's lives.
For more on this incident and others, check out Walk San Francisco's statement.
Stay in touch
Sign up for our free newsletter