Bicycle Infrastructure
Eyes on the Street: Mr. Barricade Keeps Crushing in Emeryville
3:28 PM PST on January 20, 2023
If you're biking, walking, or driving through Emeryville, be sure to check out the installations going in on and around Adeline, 45th, 47th, and Doyle. As seen in the lead image, this is new work from Crossroad Lab's Vignesh Swaminathan, better known as Mr. Barricade on TikTok. Just before the holiday break, Swaminathan invited Streetsblog out for a tour of the area, where he is helping Emeryville public works pour concrete and lay asphalt to create protected bike lanes, intersections, and other features to slow-turning cars and force motorists to keep a safe distance from vulnerable road users (including children at nearby Anna Yates elementary).
Swaminathan faces several challenges with these upgrades--not the least of which is the bioswales that were installed not long ago to improve drainage, but without any thought about how cyclists are going to navigate around them. He couldn't move them, so he had to improvise ways to integrate them with new protected bike lane and intersection infrastructure, as seen below.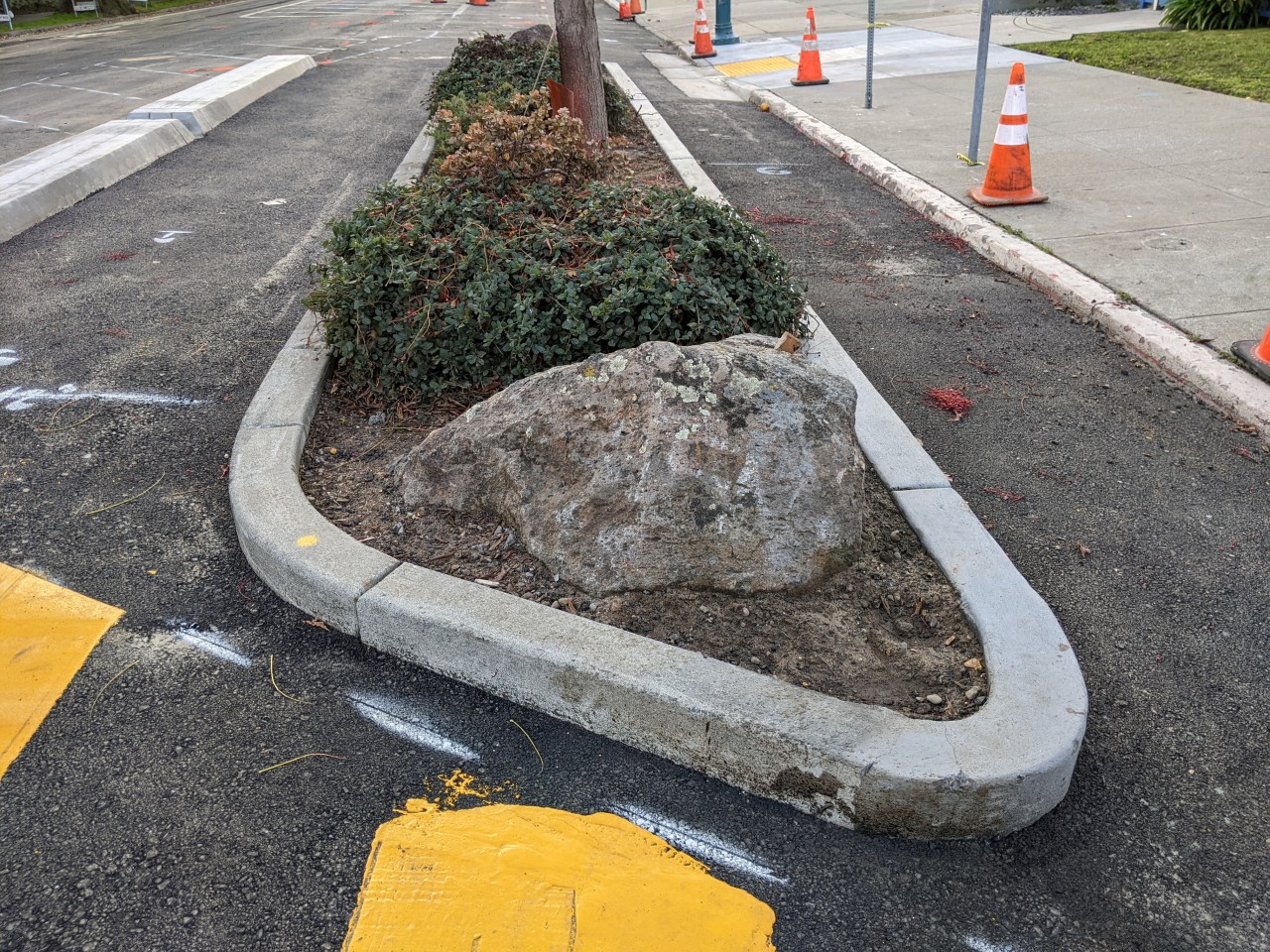 Swaminathan acknowledged that in the mid-construction phase he was showing, the lack of green paint makes it a bit confusing as to where cyclists are supposed to go, thanks to the poorly planned drainage channels he wasn't given the budget to redirect. However, once Kermit paint is applied it should all become clear and intuitive. And Streetsblog will be checking up on this project again shortly, which no doubt has already advanced since these photos were taken.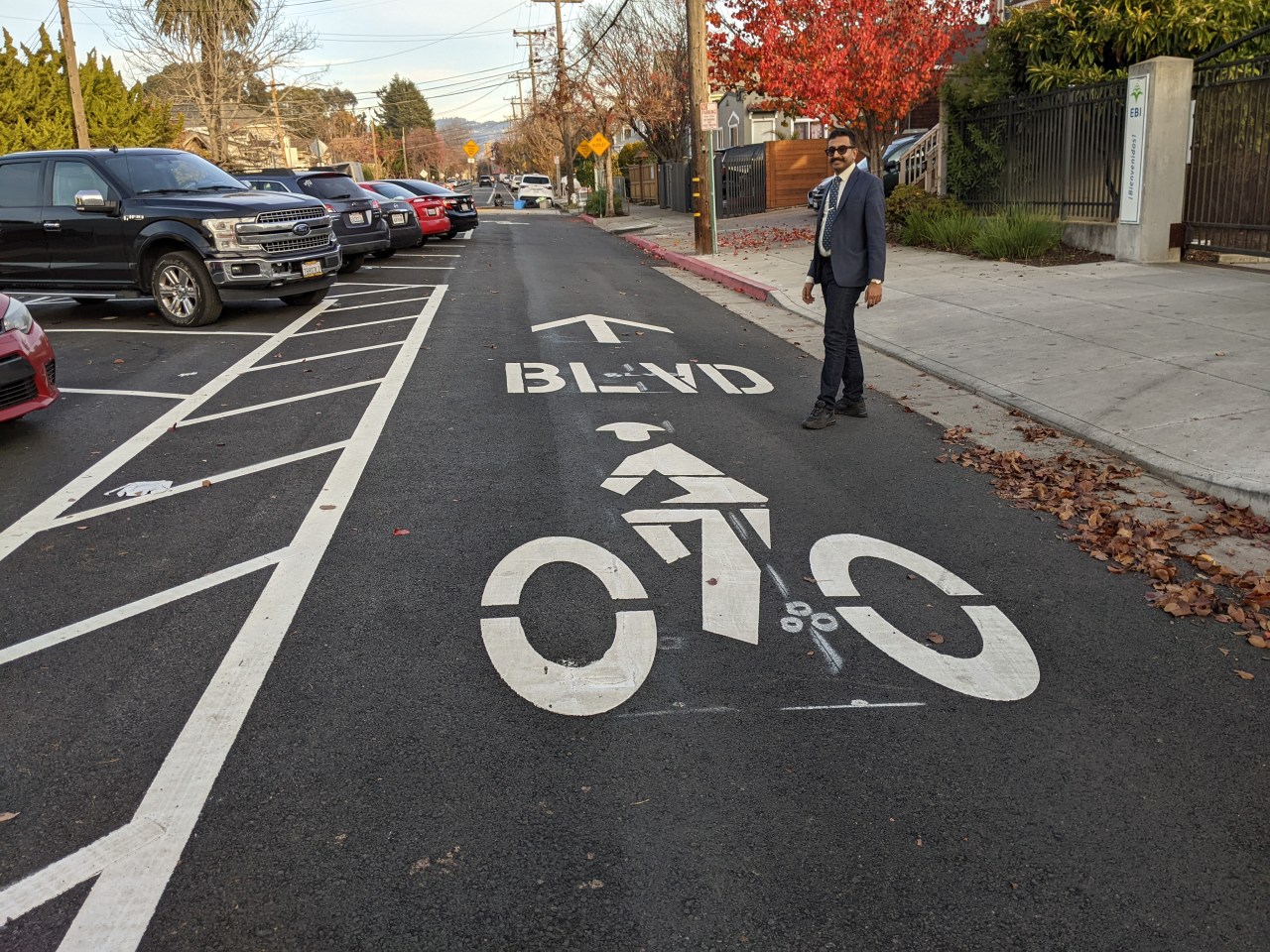 Swaminathan took Streetsblog for a tour of the treatments on foot and--gasp--in his car. Why? Because of the dual-radii turn feature. When motorists are making turns from Adeline onto 45th and other intersections, they are faced with a slightly raised application of asphalt. This allows larger vehicles to clear the turn, but if a car driver is going too fast and tight it causes the steering wheel to shake a bit--giving the driver a warning to slow down. If they don't, their tires will then hit a higher, concrete curb behind it (see the image below).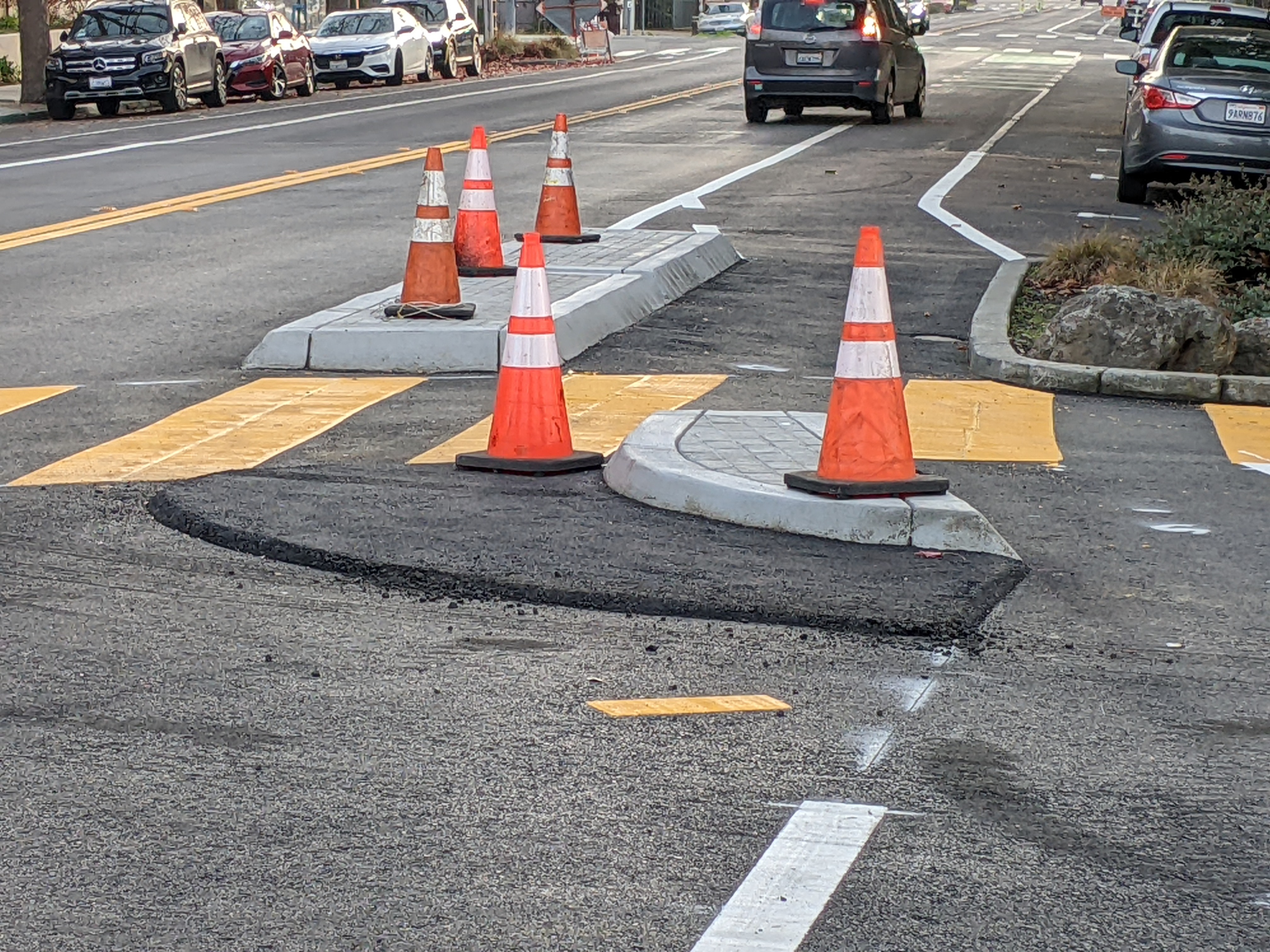 Streetsblog is happy to report, even from a driver's perspective, the raised asphalt works--Swaminathan carefully and slowly guided his car over some of it to demonstrate. Drivers have nobody to blame but themselves if they mess up their alignment by hitting a curb. This prevents what happened to the protected intersections in Oakland, around Lake Merritt, where the posts were knocked over by cars driving at excessive speeds around turns. Instead of adding concrete and an outer radius as Swaminathan is doing, Oakland DOT removed the posts entirely--defeating the point of a protected intersection.
From Streetsblog's view, Swaminathan's treatments could perhaps be improved by having a third, inner radius, in the form of a bollard or bell, so that if a driver really blasts through an intersection, the car will be physically stopped, as in the example pictured below from New York (although in Emeryville's case, the boulders in the bioswale will handle that to some extent).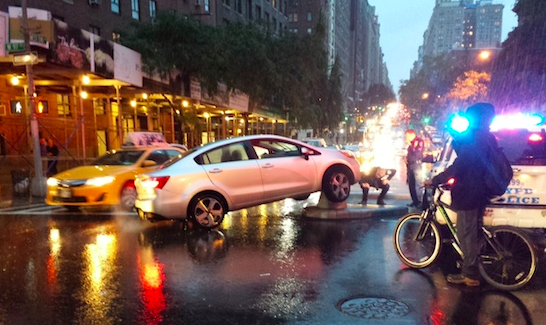 That said, Swaminathan is showing what can be done with little money but a mayor and a small staff with people who are committed to safety. He's taking poorly designed streets and drainage features and using relatively simple alterations to make an area around a school safer for those biking and walking, adapting Dutch-design principles to Emeryville's dimensions and pre-existing infrastructure. And whenever possible, he's using boulders, parked cars, and concrete to provide safety--not plastic and prayers.
Emeryville is showing tangible progress year by year. Other Bay Area cities, some with far more money and resources than Emeryville, would be wise to follow their example.
A couple more photos below: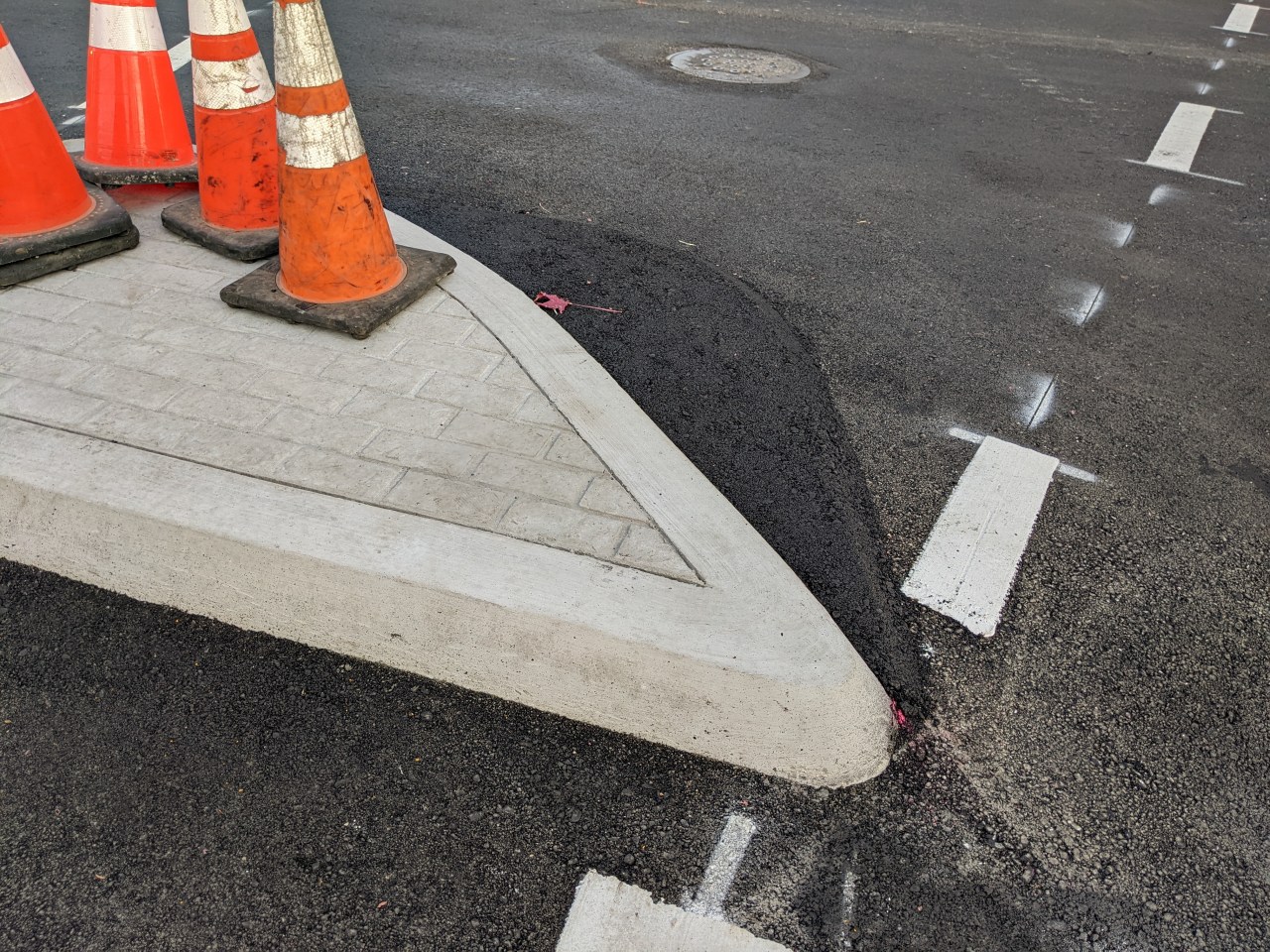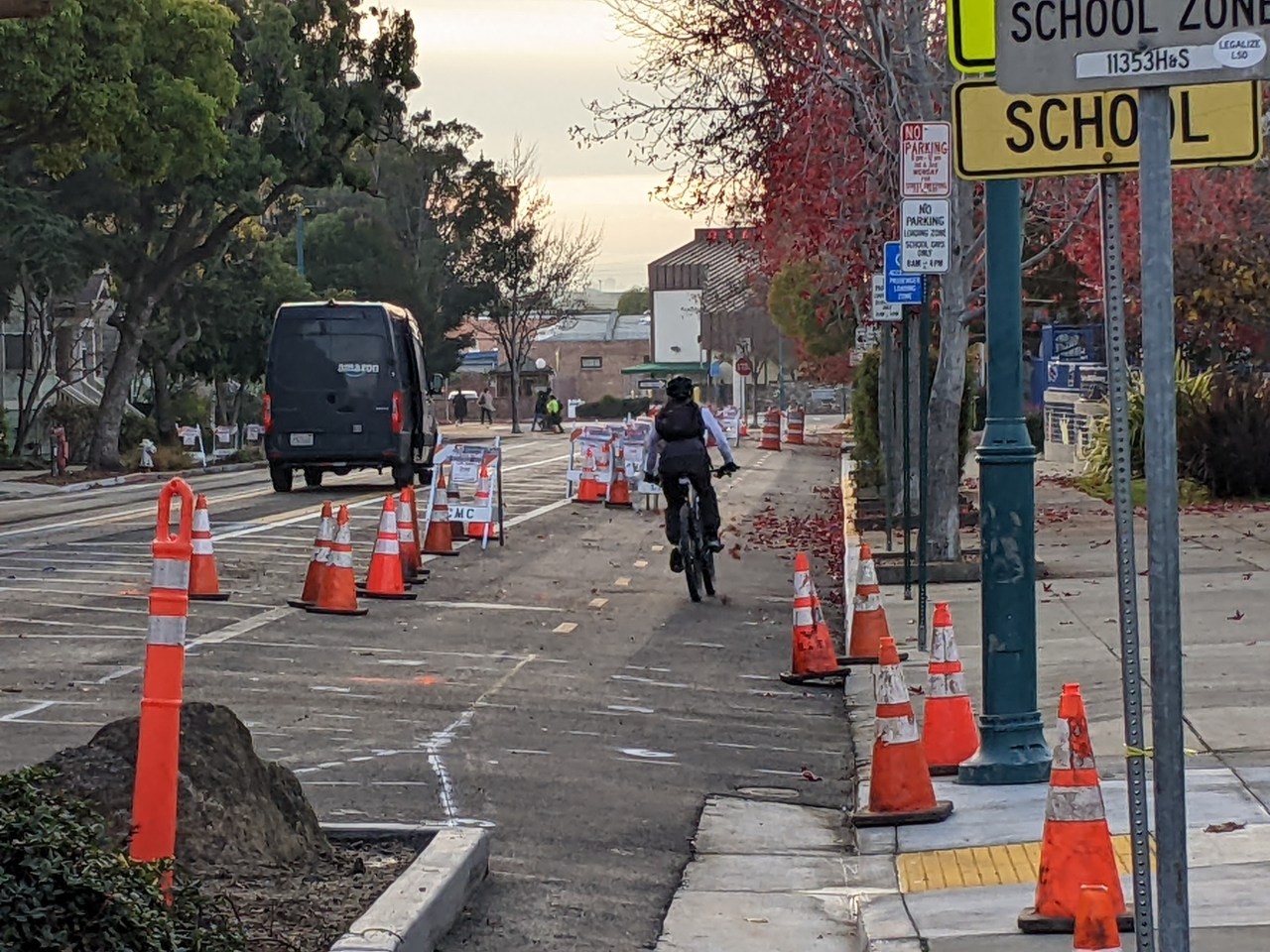 Stay in touch
Sign up for our free newsletter