Bicycling
Commentary: Spin Can't Save Lives
3:55 PM PDT on May 24, 2023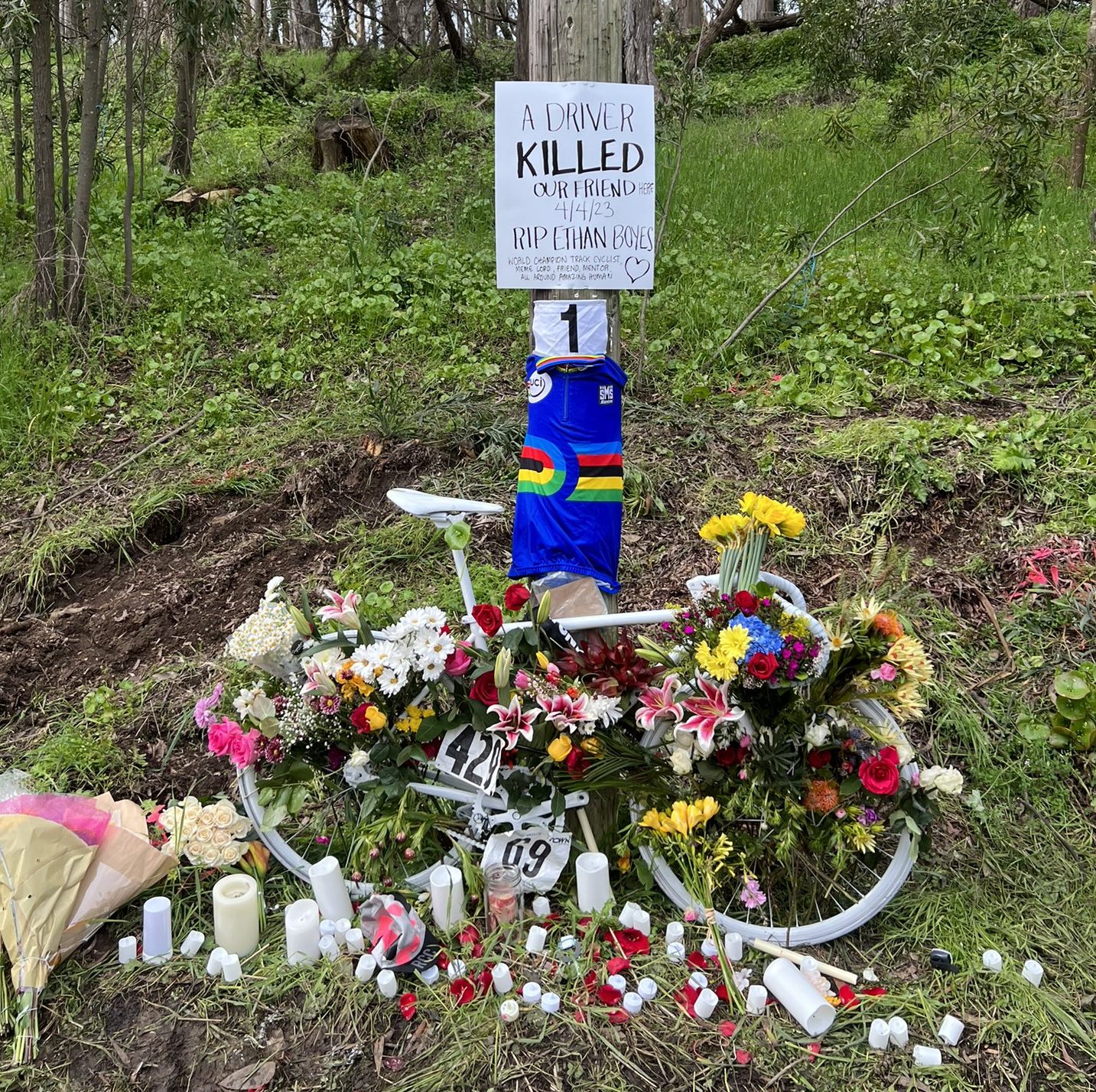 Note: GJEL Accident Attorneys regularly sponsors coverage on Streetsblog San Francisco and Streetsblog California. Unless noted in the story, GJEL Accident Attorneys is not consulted for the content or editorial direction of the sponsored content.
Ethan Boyes was killed by a driver while he was riding his bike on Arguello in the Presidio on April 4. On Tuesday, a pedestrian was killed at 16th Street at Potrero. So far, seven people have died in traffic violence this year in San Francisco. And last year, in 2022, 39 people died--a record number since the city launched its Vision Zero program in 2014.
That's why it was astounding to see a recent KPIX news story, supported by claims from SFMTA director Jeffrey Tumlin, that San Francisco streets are safer.
The story cites a supposed 58 percent decline in cycling fatalities. That's some pretty serious cherry-picking of data from 2017 and 2021, intended to make it sound as if there's a clear, positive trend when there just isn't. Below, the reality: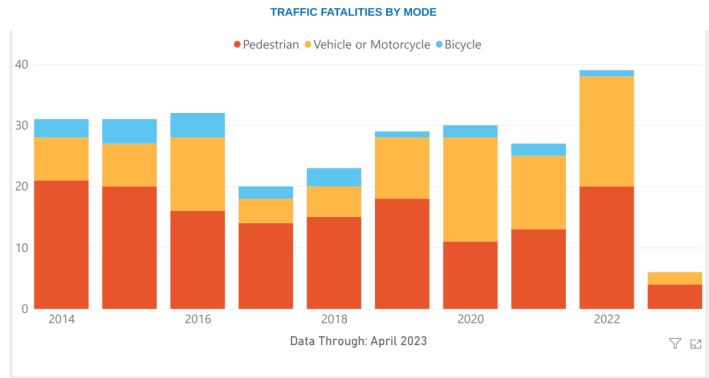 The anchor also parrots the claim by SFMTA that the city has built 43 miles of protected bike lanes.
No, actually, it hasn't.
As Streetsblog has reported previously, the city--under the supervision of Tumlin--has adopted a policy of calling almost any bike lane protected, even when an installation consists only of paint and plastic. How many miles of truly protected bike lanes exist in San Francisco is difficult to quantify, but it's not that much.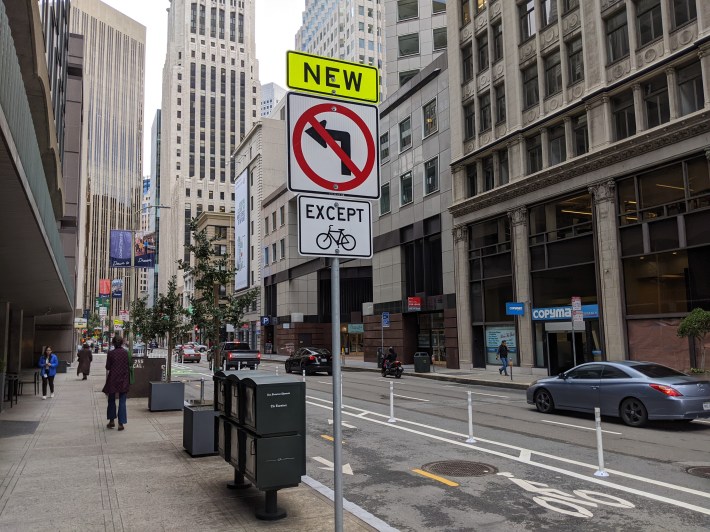 "What we want to make sure is that San Franciscans of all ages and abilities feel safe, riding their bike, or using a wheelchair or skateboard or whatever in order to take their family from their neighborhood to any other neighborhood in the city," says Tumlin in the report. This is the same director who called a paint and plastic-post lane on Battery a "protected bike lane." He's also the guy who maneuvered and ultimately killed a plan for an actually protected bike lane project on Valencia to instead install an unprotected bike lane in the middle of the street.
Seriously: what kind of person feels safe riding a bike with their family in the center of a busy commercial corridor with nothing but little plastic posts between themselves and moving traffic?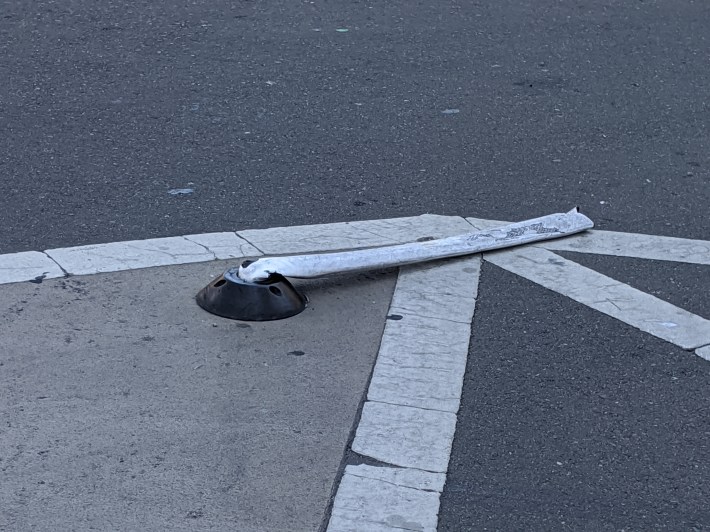 Speaking of which, the KPIX story comes on the heels of The San Francisco Chronicle's "The real problem with S.F. parking tickets: Most don't go to dangerous drivers," a great piece about how SFMTA has all but ceased ticketing for dangerous parking, such as blocking bike lanes. The data in the story is based on research from advocate Stephen Braitsch.
Below, Tumlin makes his usual refrain, that the SFMTA is simply using resources tactically, allowing them to gather more revenue which can be applied to "quick build" safety improvements.
Except, again, the SFMTA's quick-build, paint-and-plastic installations aren't effective--fatalities and serious injuries are up, not down. He also makes the claim that tickets won't stop illegal parking by big companies such as UPS. That may be so, but concrete would: and, as mentioned, Tumlin continues to oversee the installation of soft-hit posts that are specifically designed to be tolerant of illegal parking and other dangerous movements by motorists.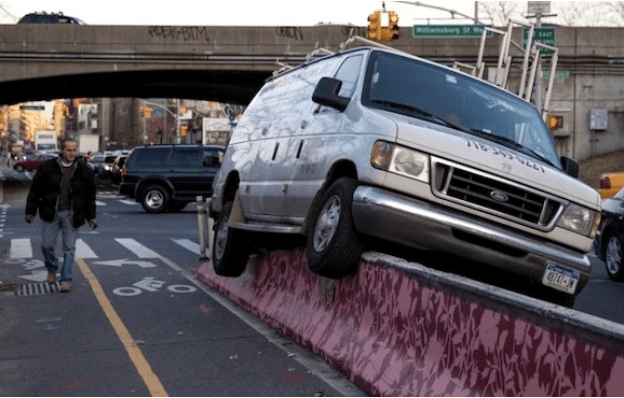 Anyone can go to New York or Paris or other cities in Europe and see how they have reduced traffic fatalities in reality: it's primarily with Jersey barriers and proper concrete and steel protection and real, physical separation that actually stops errant motorists from running over people.
They don't do it by lying about protected bike lanes and spinning safety numbers and trying to give the appearance of improvement. Moreover, Tumlin's claims, echoed by KPIX, aren't just counterproductive, they are disrespectful to the people who've been killed and injured by their city's misguided priorities. It reflects disdain for people who get around on two wheels. It needs to stop.
Stay in touch
Sign up for our free newsletter