Bike Lanes
Weekend Roundup: Good Riddance APEC, Vision Zero Data
...and art grant for San Francisco safety
3:51 PM PST on November 17, 2023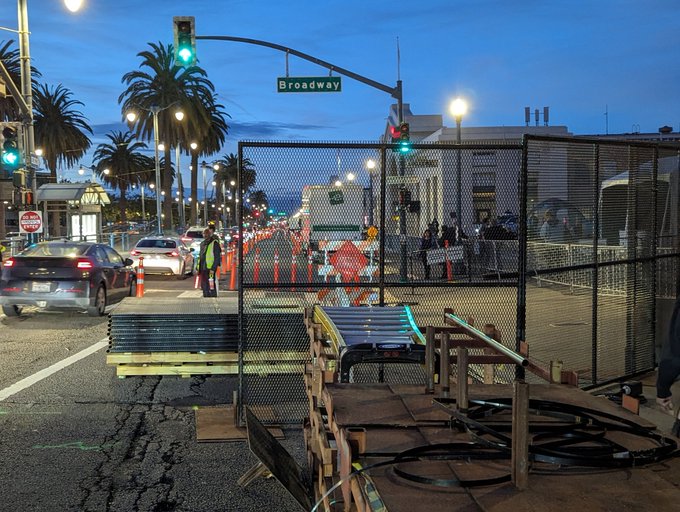 Here are a few Streetsblog news nuggets to start your weekend.
Safe-and-livable-streets advocates won't miss APEC
The Asia Pacific Economic Cooperation summit ends Friday, and people who care about safe and livable streets are no doubt happy to see it go. The conference closed bike lanes, closed sidewalks, disrupted transit--and yet somehow, as usual, the holy automobile was still given priority. Just look at the lead photo of the Embarcadero, taken by advocate Bryan Culbertson, with the protected bike lanes fenced off. "Close the lane to cars first before closing it to bikes and pedestrians. This is a major bike and pedestrian route!" he wrote on social media.
The Central subway was also cut off for the conference, running just a shuttle between Chinatown and Union Square. The bike path on the eastern span of the Bay Bridge was closed except for Treasure Island residents. Even the cable cars were shut down!
If there was one silver lining, it was the fact that for whatever security reason, a westbound car lane of the Bay Bridge was closed (see tweet above). And yet traffic seemed unaffected. With even more evidence now available that no, not all ten lanes are needed for cars on the Bay Bridge, perhaps it's time to talk again about a bus-only lane or a bike lane across both spans of the Bay Bridge.
Tech group demands SFMTA update Vision Zero data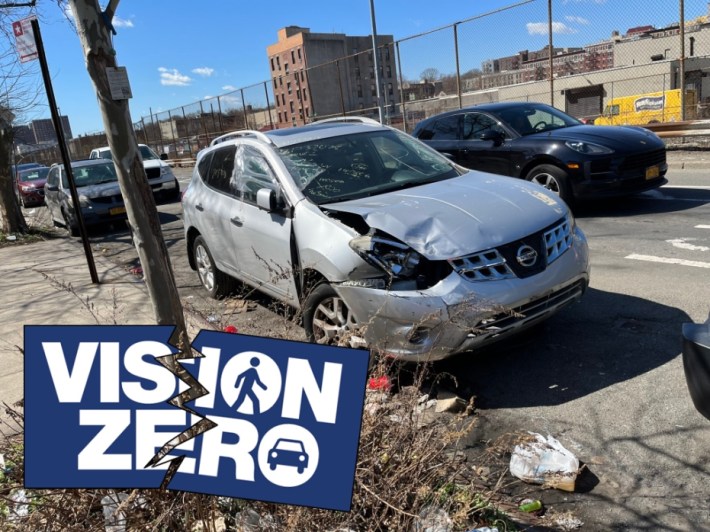 Chamber of Progress, a group that represents driverless car and other technology companies, is sending a letter to SFMTA, SFPD, Public Health, and other city and state agencies urging them to release "backlogged human driver crash data that, in some cases, has not been updated in over a year."
From the letter, which was forwarded to Streetsblog:
Tragically, as Vision Zero nears its tenth year, the city and state's transparency efforts on crash data appear to have stalled. Public records stipulate that San Francisco's data on traffic crashes resulting in injury should be made publicly available approximately a month after the end of the previous quarter. Unfortunately, no data has been released by the city since the first quarter of 2023. Similarly, CPUC's TNC Data Portal, which tracks rideshare incidents in the state of California, is significantly out of date. There, the most recent data released is from 2021.
Wherever readers stand on driverless cars, it's hard to argue with the Chamber on this issue: the city needs to get its act together on safety data reporting and transparency.
San Francisco wins grant to use art for safety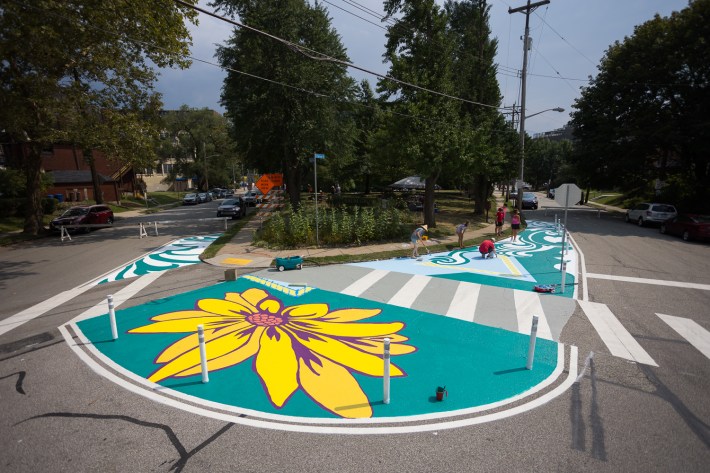 Bollards, speed humps, daylighting--all of these tools can help make streets safer. But art installations can also be integrated into some of these safety features to enhance and beautify a neighborhood. That's why Bloomberg Philanthropies, former New York Mayor Michael Bloomberg's foundation, has an "Asphalt Art Initiative," a program that supports projects "that use art and design to improve street safety, revitalize public spaces, and engage residents." On Tuesday the philanthropy announced that San Francisco will be awarded $25,000. SFMTA and the SF Parks Alliance were the applicants who will administer the grant.
"San Francisco's project will aim to further improve one of the city's most successful pandemic-era Slow Streets with new intersection treatments and roadway art to encourage motorists to yield to cyclists and pedestrians and visually narrow the roadway," according to a statement from Bloomberg. SFMTA's application says the money will be used to improve "Slow Streets with new intersection treatments and roadway art to encourage motorists to yield to cyclists and pedestrians, visually narrow the roadway, and uplift community identity through art and placemaking."
This will add to other street/asphalt arts programs in San Francisco, such as SF New Deal for Parklets and, of course, Illuminate's work on the JFK Promenade.
Stay in touch
Sign up for our free newsletter