Bicycle Infrastructure
SFCTA Board Approves Funding For Masonic, Second Street, and More
3:28 PM PDT on June 26, 2013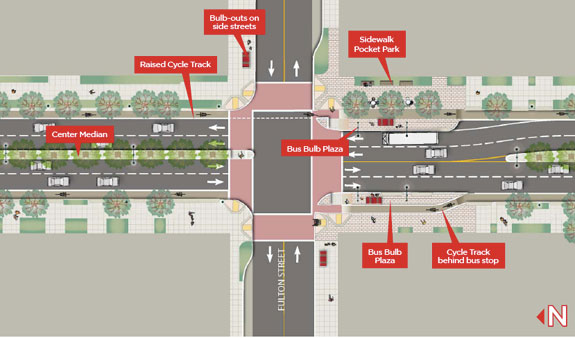 Federal funding for street redesigns on Masonic Avenue, Second Street, and other improvements was unanimously approved yesterday by the Board of Supervisors, acting as the board of the SF County Transportation Authority.
The projects selected to receive a chunk of the regional One Bay Area grant also include a bike/ped path on Mansell Street in McLaren Park, pedestrian safety improvements on Broadway in Chinatown, and bike and pedestrian upgrades on streets around the Transbay Transit Center. Altogether, $35 million in OBAG funds will go toward projects in SF.
The most anticipated project in the package -- and the most contentious -- was the overhaul of Masonic, a deadly street which is slated to get raised bike lanes, reduced traffic lanes, a tree-lined median, bus bulb-outs, and other pedestrian safety upgrades. Of the estimated $18 million needed for the project, OBAG will provide $10 million, while the SFMTA is expected to provide the remaining $8 million.
SF Bicycle Coalition Communications Director Kristin Smith wrote in a blog post yesterday:
This is a huge win for safer, more complete San Francisco streets — especially on Masonic Avenue, one of San Francisco's most deadly streets. In the last five years, 122 people have been injured and two people killed, just on 2/3 of a mile of Masonic. Thanks to today's funding decision, this deadly corridor will be transformed into a safer place for all road users.
Even though the Masonic project was approved last September after several years of planning and extensive outreach, a few dozen residents at the hearing told the board to reject funding for the plan because it would remove all on-street car parking on Masonic. They claimed that the safety upgrades were actually dangerous, would add congestion, and that they weren't notified about the planning process. Almost as many speakers who backed the project attested to the long-overdue need to save lives and make the street more accessible to bicycling.
Supervisors -- including Eric Mar, Mark Farrell, and London Breed, who penned a joint letter in February urging funding for the project -- gave a sympathetic nod to the complainers, but didn't budge on their commitment to safer streets.
"To make the corridor safe is really paramount to any other issue, whether it be Bicycle Coalition, someone's ability to park, or what have you -- safety comes first," said Supervisor Breed, who was credited with expediting the installation of the Oak Street protected bike lane in May. "Masonic is clearly a dangerous, almost freeway-like corridor in the middle of our community."
"It's not that this plan has just come out of nowhere," said Supervisor Mar, noting the SFMTA's widely-praised public outreach and the advocacy efforts of the neighborhood group Fix Masonic. "It is a choice, and I choose public safety as the key goal."
Although Supervisor Farrell vowed to "make this right" -- meaning, to minimize the impacts of the safety upgrades on his car-dependent constituents -- he said "this project, to me, is about public safety."
Still, he questioned the extent of outreach by planners: "How we have projects where people across the street don't know about it still bewilders me."
Walk SF Executive Director Elizabeth Stampe pointed out that streets where protected bike lanes were added in New York City have seen a 50 percent increase in safety for all street users, on average. "Not all of us are bicycle riders, but all of us are pedestrians," she said. "We really need to proceed on this project quickly... it's important to tame the speeding we've heard so much about."
"This project is about ensuring that people have choices," said David, a Masonic resident who identified himself as a car owner, noting that he and his family members bike and drive to get around the city. "They make their choices because they have choices."
"This is decades overdue," he added. "The traffic, pedestrian and bicycle toll tells that story."
The SFCTA's package of projects selected for OBAG funding is expected to be approved by the Metropolitan Transportation Commission as part of the broader regional program.
Aaron was the editor of Streetsblog San Francisco from January 2012 until October 2015. He joined Streetsblog in 2010 after studying rhetoric and political communication at SF State University and spending a semester in Denmark.
Stay in touch
Sign up for our free newsletter