Bicycling
Bringing More Bikes to the Bayview
5:13 PM PDT on June 27, 2018
Note: GJEL Accident Attorneys regularly sponsors coverage on Streetsblog San Francisco and Streetsblog California. Unless noted in the story, GJEL Accident Attorneys is not consulted for the content or editorial direction of the sponsored content.
A push is on to get more people biking in the Bayview/Hunter's Point (BVHP) neighborhood of San Francisco. Last week, both SFMTA and the Bicycle Coalition talked about programs to increase cycling at the BMAGIC Community Convener Meeting, held at the Southeast City College campus. BMAGIC is a BVHP-based group that represents a coalition of neighborhood nonprofits.
The hope is that by meeting with BMAGIC and other groups, bike advocates and city agencies can avoid some of the misconceptions that, ostensibly at least, lead to blow-back against Ford GoBike (and other bike-share operators) in other neighborhoods. "People think Ford owns the bikes, but they're sponsors, just like AT&T paid for the sponsorship of the ballpark," explained SMFTA's Adrian Leung at the meeting.
Because of the confusion, Bay Area's official bike-share system--Ford GoBikes--is sometimes viewed as a product of the Ford Motor Company. Of course, they're actually run by bike-share operator Motivate on behalf of the city.
"That was a surprise," said Lyslynn Lacoste, who facilitates the BMAGIC meetings, in a follow-up phone interview with Streetsblog. She mentioned that the bikes should probably have "City of San Francisco" prominently written on them.
"We're here to make sure the community gets what it needs from operators who enter the neighborhood," said Leung. He stressed that there are some drawbacks to bike-share, namely, the loss of parking spaces for the Ford GoBike stations. It may also mean sacrificing car space for bike lanes. "We want to be up front," he added. "At the end, there is parking loss." That is more than offset, he explained, if more people are biking and fewer cars are in use.
But that requires getting people to ride who aren't already. "People who ride are more likely to go to the bike-share system because they feel comfortable riding in traffic. But we are interested in looking at communities that don't bike," said Leung.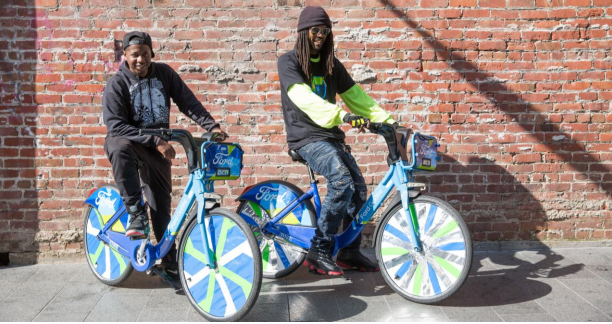 As Lacoste mentioned in her follow-up interview, that presents a chicken-and-egg issue. Fewer people cycle in BVHP than in the city at large because streets feel, and often are, unsafe. Lacoste, in fact, crashed on Cargo Way in the Bayview thanks to subpar pavement (it has since been repaved). But it only takes one painful experience to turn someone off to cycling for good. Thus, it's hard to get people behind bike-share stations and pushing for more bike infrastructure in the first place if they're already turned off to cycling, she added.
Ironically, Jump bikes, the provider of red, dockless electric-assist bikes, were making headways in the Bayview long before the city's latest push (Streetsblog noticed a couple of cyclists on Jump bikes a few blocks from the meeting). Lacoste said she likes Jump, however, "Now it's hard to even find a Jump bike across the city because they were only limited to 250 bikes," she said.
Jump Mobility is based in BVHP and hires locally. However, as Lacoste mentioned, the SFMTA's permit program limited their numbers. Lacoste added that Jump bikes were especially useful given the hills in BVHP. Ford GoBike has also rolled out electric assist bikes, which should be especially helpful in areas where many people are new to cycling, and hills are plentiful.
The SFMTA reps also shared short testimonials from bike-share users in other cities (see image below). "It's easier and faster for me to bike to a meeting or to get a couple things than waiting for the bus," wrote one person in the testimonials. "I realized that it's essentially a gym membership!" said another person of the cost of getting a bike-share pass.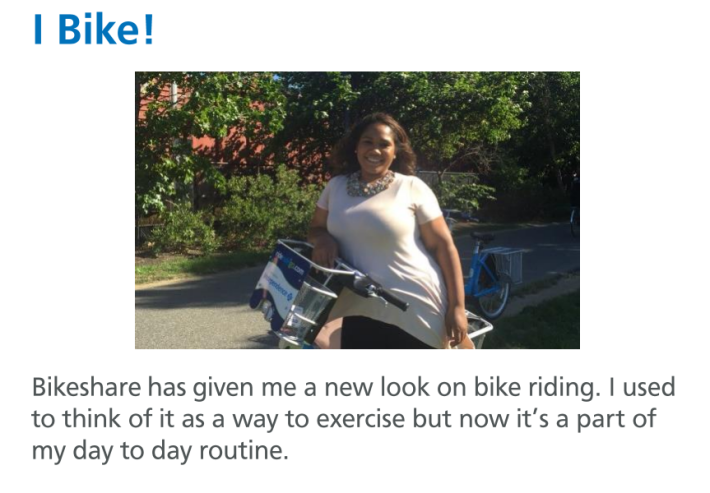 The San Francisco Bicycle Coalition's Christopher White was also at the meeting, promoting 'community bike builds' and adult bike lessons in BVHP. "We refurbish bicycles and distribute them to residents at no costs," he explained in his presentation. "We take reclaimed and abandoned bikes from the police and SFMTA."
The next Adult Learn to Ride class, he said, will be held July 8. In the class, budding adult cyclists learn on bikes with the seats lowered so they can straddle the bike and half-walk, half-ride as they learn to balance. After that, they start pedaling. "It's amazing in three hours people who were convinced they'd never be able to ride a bike are pedaling confidently around the space," he said. "Ideal participants would be 18 or older, are new to bicycling, and people who might otherwise have difficulty accessing a bicycle."
The next adult cycling class will be held at NOW Hunters Point, at 155 Jennings Street and Cargo way, on July 8 from 11-2 p.m. The classes are free, funded by the San Francisco County Transportation Authority. Word has it there are still spaces available. Click here for more information.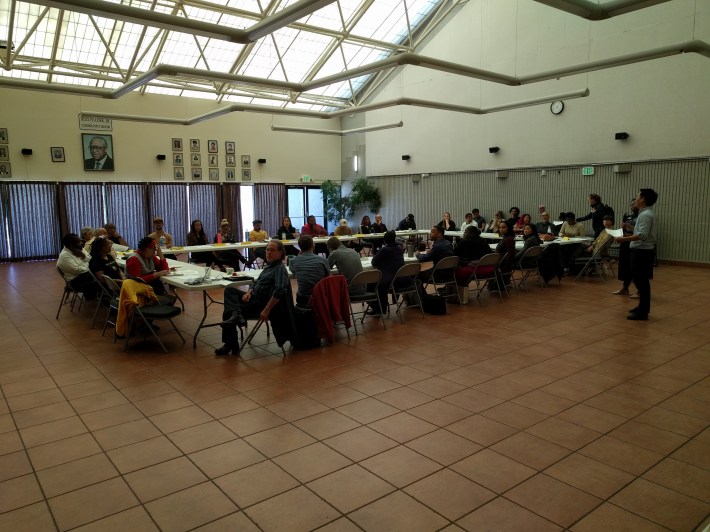 Meanwhile, according to Motivate, if all goes well, they are aiming to install up to five GoBike stations in the Bayview this fall. "We are in the process of working with SFMTA to gather feedback from Bayview community groups including BMAGIC, Economic Development on Third, BRITE, Merchants of Butchertown, Bayview Citizen's Advisory Committee, etc.," explained Jean Walsh, spokeswoman for Motivate.
Stay in touch
Sign up for our free newsletter