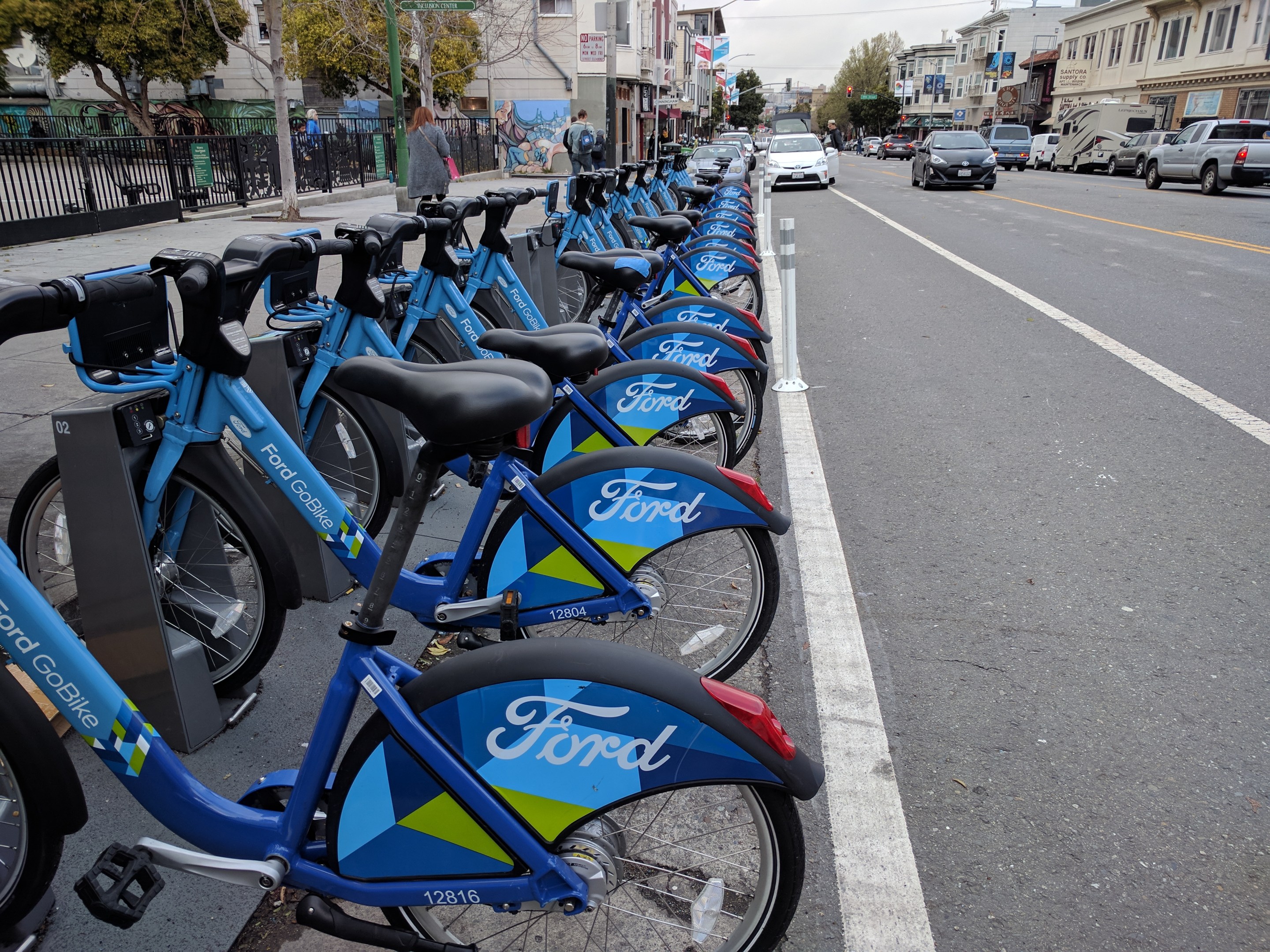 Note: Metropolitan Shuttle, a leader in bus shuttle rentals, regularly sponsors coverage on Streetsblog San Francisco and Streetsblog Los Angeles. Unless noted in the story, Metropolitan Shuttle is not consulted for the content or editorial direction of the sponsored content.
Free Our Bikes, a group of bike-share advocates, has launched an online petition to end caps on the number of shared bikes in San Francisco and to resist push-back from neighbors to the placement of bike-share stations. "Bike-share is being stalled in SF," said Brad Williford, who, along with his bike-advocate partner Patrick Traughber, launched the petition. It has garnered almost 500 signatures after only a week. Williford told Streetsblog he lives in the Mission and commutes daily, by bike, to a software job downtown. He became acutely aware of the push-back against bike-share after reading a story in the SF Examiner.
From the story:
From Glen Park to the Haight, the Mission District and most recently, the Marina, residents are pushing back against the rental bike docks, which are usually placed in parking spaces meant for cars.
The Examiner explains how, neighborhood by neighborhood, local residents are delaying or preventing a bike-share station here or there, which is collectively hamstringing Motivate's planned roll-out of 7,000 bikes citywide. "That was a real wake-up call to me and some of my friends who really rely on bike-share," said Williford.
He got his first taste of bike-share blow-back when his neighbors in the Mission gathered 200 signatures to ask that a Ford GoBike station be moved up the hill and away from a retail area, rendering it far less useful to bike-share users. Williford said the data showed that the station was heavily used; in his view, that should have been sufficient to keep it where it was, but local politics were winning out. "So we got about 200 petitions too, saying we wanted it to stay. Through that process we were able to keep it where it was," he explained.
But no sooner is one anti-bike-share push headed off when another one appears. Keep Alta Plaza Park Commerce Free is currently lobbying District 2 Supervisor Catherine Stefani to keep bike-share stations away from the park (and, according to the Examiner story, it seems most of her district is already more or less off limits). It's worth noting that Keep Alta Plaza Park Commerce Free also reached out to District 2 candidate Nick Josefowitz, who replied that bike-share stations should be placed according to community engagement. However, he said, he is "on a different page" than Stefani, "who seems to not want any docks anywhere."
All of which motivated Williford and Traughber to start the petition as a tool to help protect and expand bike-sharing city wide. They met today with Supervisor Stefani, petition in hand, to see if they could get her on their side about the Alta Vista Bike Share station as well as other locations. "Supervisor Stefani's office told us that they and Ford GoBike are exploring eight potential stations in D2," Williford told Streetsblog, via email, after the meeting. "They are working together to conduct additional community outreach over the coming months and hope to get a few stations approved by the end of the year."
The petition is addressed to Mayor Breed, SFMTA head Ed Reiskin, and the Metropolitan Transportation Commission's Steve Heminger, and reminds leaders of the city's voter-mandated Transit-First policy, which states that "Decisions regarding the use of limited public street and sidewalk space shall encourage the use of public rights of way by pedestrians, bicyclists, and public transit, and shall strive to reduce traffic and improve public health and safety."
Obviously--or at least it should be obvious--removing bike-share stations to restore car parking spots is a violation of that mandate.
What about dockless bike-share, notably JUMP e-bikes? When Streetsblog last reported on JUMP's roll-out, SFMTA had given JUMP permission to deploy 250 bikes, which are currently in circulation. Depending on approval, another 250 bikes may be deployed by this Fall, for a total of 500 bikes.
Williford wants that regulatory cap lifted too. He believes that more bikes on the road, whether they be a cyclist's own bike, a Ford GoBike, a JUMP e-bike, or some other type of rental bike, make it the safer for everyone who cycles. "Do I support having the expansion of both? Yes, in every way possible."
On a related note, there's a rumor that long-delayed permits for e-scooters may be issued soon, perhaps as early as this Friday, although that's still unconfirmed. All SFMTA's spokesman would say is: "Not yet. Still possible for this month." Another source close to the SFMTA said the agency had originally planned to notify companies that they would be permitted back into the city by the end of August, but the schedule may slip into September.
Williford said his petition is only about bikes, but he doesn't see why scooter fans shouldn't start their own petition, since he thinks scooter users can be close allies in pushing for more protected bike lanes and safe infrastructure. "People using the bike lanes with scooters is great. I want those lanes to be used and I want them to grow."
Stay in touch
Sign up for our free newsletter