Bicycling
S.F. Ranked Near Top for Cycling, Mayor Pushes SoMa Safety, More e-Bikes and Scooters
3:22 PM PDT on October 12, 2018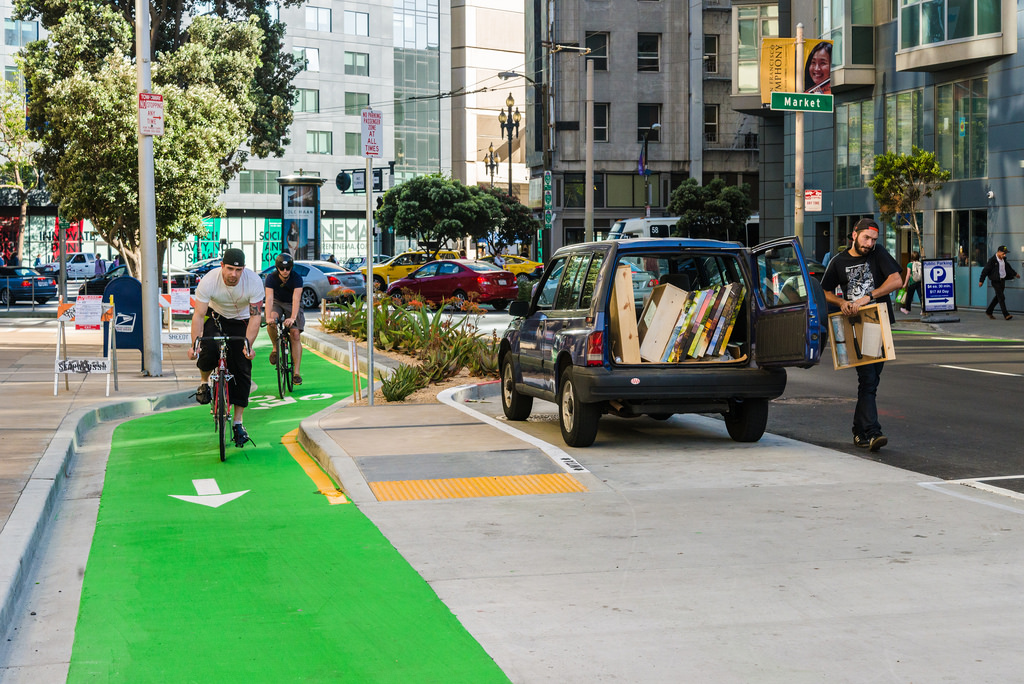 A few short round-up stories on bicycling, scooters and road safety to start out your weekend.
San Francisco is Second Best for Bicycling
Nobody would ever accuse Streetsblog of holding back on criticisms of San Francisco's bicycling infrastructure. That said, it's nice to remember that if you like to get around by pedaling, it's hard to find a more bike-friendly city in the U.S. Bicycling magazine confirmed that with this year's list of the best cities for life on two wheels. Seattle is number one, and San Francisco is number two, beating out purported bike meccas such as Minneapolis and Portland, OR.
From the Bicycling article:
What makes for a great bike city in America? Is it the miles of protected bike lanes? The number of coffee shops? An abundance of stunning places to ride?

Yes to all of that, but as we sifted through thousands of data points and chatted with bike advocates and transportation officials around the country, we determined that the best cities are the ones that don't cater to one specific type of rider—be it the daily commuter or competitive roadie. The ones that top our list have built systems and a riding culture that benefits everyone—from the kid who rides to school to the retiree who takes a weekend trip to the grocery store.
Oakland, meanwhile, came in at 19, but, hopefully, will continue moving its way up the list as it rolls out more bike lanes under its still newish department of transportation. For more on the ranking, check out Streetsblog California.
Of course, if you switch to a global standard, all American cities are pretty lame when it comes to bike infrastructure, safety, and mode share, with cycling accounting for only 4.3 percent of trips in San Francisco, compared to roughly one-third in cities in the Netherlands, Denmark, etc. Note: Davis, California missed the list because they only looked at cities with 100,000 people or more.
Mayor Breed Turns up the Heat on Safety
Meanwhile, it seems that if Mayor London Breed has her way, San Francisco could come in number one next year. The mayor is keeping up the pressure on SFMTA to deliver much-needed and long-delayed bike and pedestrian safety projects in SoMa, focusing on 6th Street and Townsend Street.
From the Mayor's letter to the SFMTA:
Mayor Breed called for the Townsend Corridor Improvement Project to advance on an expedited timeline, with construction of the protected bike lane and new sidewalk beginning in January 2019 and completion scheduled for that spring. Additionally, she instructed the SFMTA to speed up improvements on the 6th Street and Taylor Street corridors, which the City's Vision Zero program identified as having one of the highest concentration of severe and fatal pedestrian injuries in San Francisco. This project will advance eight to 12 months faster than currently planned, with construction beginning no later than Spring 2020.
Last month the mayor issued a similar letter for Valencia Street.
Is it too soon to label Mayor Breed San Francisco's first bicycle mayor? Post your thoughts on that question below.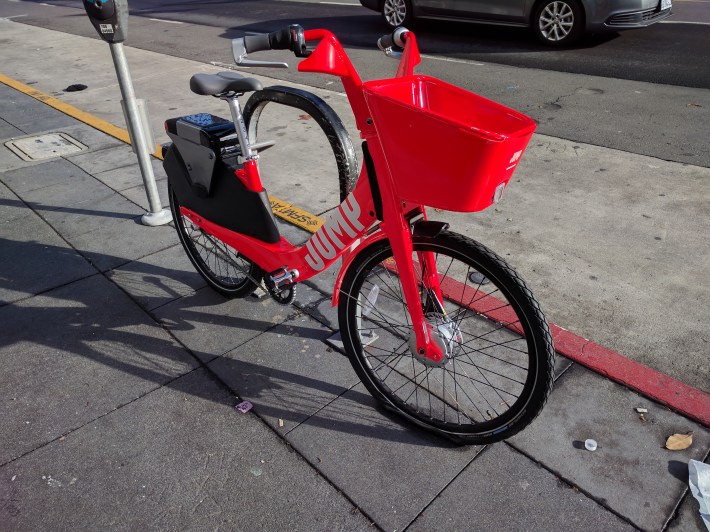 More JUMP Bikes, Scooters to Return
JUMP's electric-assist bikes have proven popular and successful. The one limitation: it's gotten very hard to find an available bike.  But that could improve, as SFMTA staff wants to allow the company to drop another 250 bikes in the city, bringing the total count to 500.
From SFMTA's article:
The evaluation shows that the JUMP bikeshare system is performing well and complies with the terms and conditions set forth by the SFMTA. The evaluation also identifies several potential improvements. Based on this evaluation, the SFMTA is in the process of granting the modified permit, which allows JUMP to operate up to 500 bikes for the duration of the 18-month pilot period.
And if you can't find a JUMP bike and aren't a fan of Ford GoBikes, but you still want to get around by some kind of clean-powered, shared micro-mobility--scooters are set to return to the streets of San Francisco on Monday. As previously reported, SFMTA issued permits to Scoot and Skip, which will allow a "maximum of 625 scooters for each company in the first six months. Scoot and Skip may have the potential to increase their number of scooters in months seven to twelve to a cap of 2,500, at the SFMTA's sole discretion," according to the agency.
One potential snag: that "sole discretion" part isn't sitting well with Lime Scooters, which didn't get a permit, and is now reportedly suing to stop the permit program.
Are Lime execs being babies, or are they right to object to San Francisco's somewhat arcane permit process? Post your thoughts below.
Stay in touch
Sign up for our free newsletter