The streets and communities of Oakland still show the signs of three decades of neglected maintenance, the damage done by the freeway building age, and the disparities caused by redlining. How does a new Department of Transportation fix these streets and fight disparities in the communities they run through? "It's not just making sure there's a low-income program in our bike-share," explained Ryan Russo, head of Oakland's DOT, during a talk last night at SPUR's Oakland location, checking in after nearly two years at the helm. "It's a whole approach to our operations."
Recently passed tax initiatives have finally given Oakland the opportunity to start with the basics--fixing the streets and sidewalks. "Fundamentally, at its core, we're trying to begin to address a three-decade deficit in street maintenance. Broken asphalt, broken sidewalks--we're doing paving more than ever," said Russo.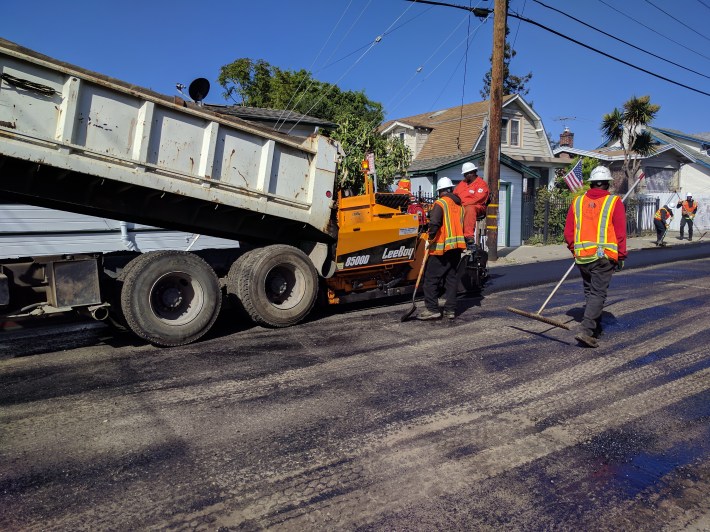 That means buying machinery and hiring staff to do the repairs and spending funds from a gas tax that was finally adjusted to inflation (SB-1), and local taxes and bonds. "We added 20 positions," explained Russo, "to grow our in-house paving and street repair, so we weren't just doing work with contractors."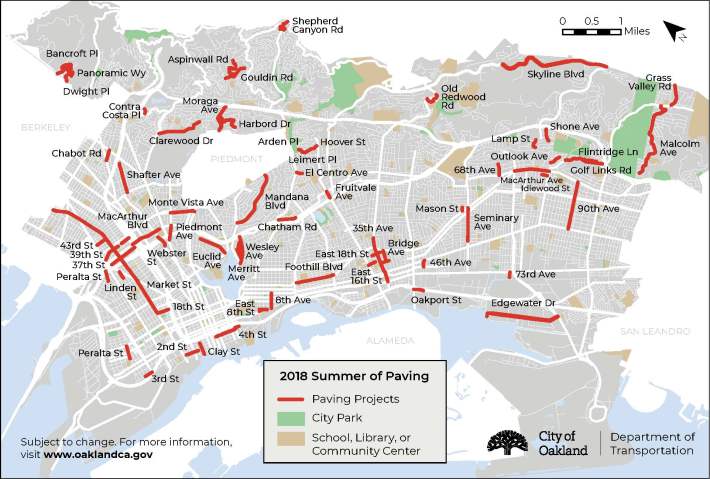 But where to pave first? Oakland, he explained, is looking at areas with the worse pavement, of course, but also areas that have been neglected historically--and those with the highest crash rates. "There's an incredible correlation of where pedestrians are hit by cars and the poor infrastructure we've provided," he said.
That means when they pave, they also do safety upgrades. "Our pedestrian plan is helping guide our investment," he added. And "we striped more bike lanes than ever--20 miles of upgraded bike facilities, in 2018 alone, which is a record."
"There's an incredible correlation of where pedestrians are hit by cars and the poor infrastructure we've provided"
Sometimes doing safety upgrades, however, requires intervening in places where out-of-date plans that are already under way would result in more dangerous infrastructure, such as with the Lakeside Green Streets Restoration Project. Russo's department changed that plan and added protected bike lanes (as seen in the lead image). To Russo, the idea of rebuilding the lakeside paths with families, bikes and scooters all vying for space on a mixed-use path just wasn't sensible. "We added a real gold-plated cycle track alongside the lake, given the rise of scooters and their popularity," he added.
They also added flashing beacons for pedestrian crossings and other safety treatments along Upper Broadway, Wisconsin, and Upper Grand Avenue, which "Completely stop traffic so pedestrians can cross."
In addition, the department is trying to be faster and more responsive, for example with the addition of a new crosswalk at 23rd and Harrision. "It had six lanes of traffic, with no traffic control device, and a senior was hit and killed by a turning vehicle," he said. So his department put in "immediate safety measures with paint and signs, and took the road from six lanes down to four."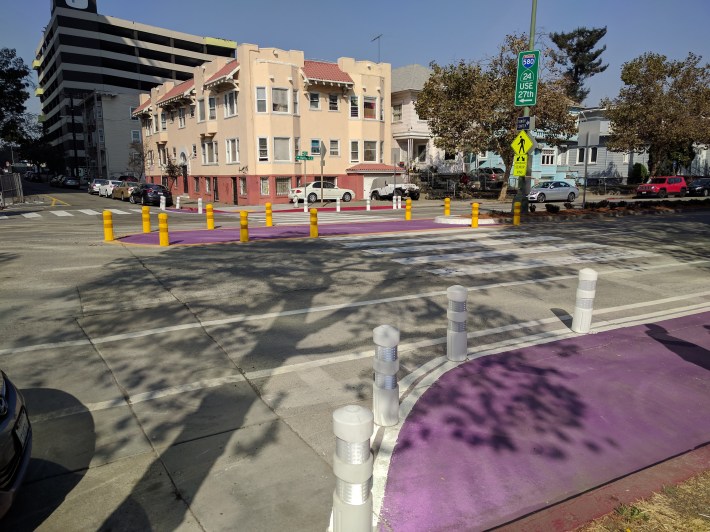 Making streets safer and repairing pavement is essential, of course. But to Russo, streets aren't just about moving bikes and cars and buses. He views them as community spaces. That was the origin of the "Paint the Town" program, that invites local communities to paint murals on the street.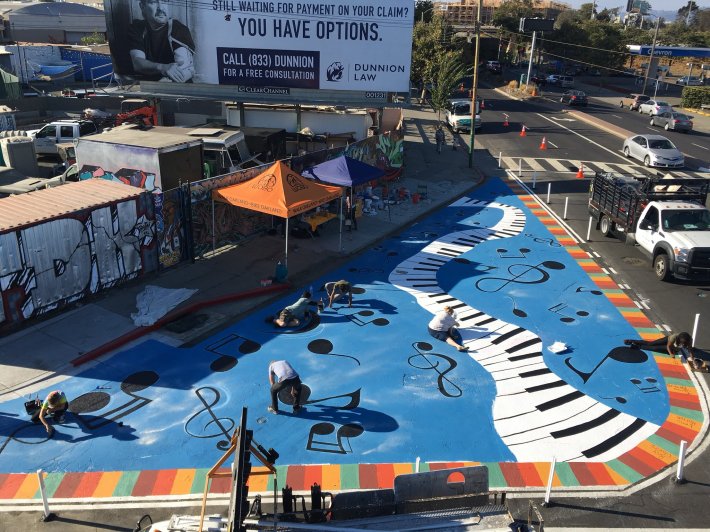 "We put our bureaucratic hats away and hide the lawyers as much as possible," he explained. They got the police to shut the street and even help with the project--project which reflect the history of the community. For example, at San Pablo Avenue in West Oakland, where it meets 34th and Linden, references the area's musical history, as seen above.
Under his leadership, OakDOT also got final approval for a parking-protected bike lane on Telegraph through Temescal, and piloted pre-fabricated bus-boarding islands to help avoid conflicts between buses and bikes.
But there's still lots of work to do, stressed Russo, with Oakland's Bus Rapid Transit project set to open at the end of the year, and a scooter permit program on the way.
Russo added that moving forward they will remain focused on using data to decide what to work on. It will be based on a combination of crash data, pavement conditions, and making up for communities that have been neglected in the past. Gone, he said, are the days where the only consideration is which community is making the most complaints. "Let's fund projects that most reflect our values, rather than which people show up at City Hall," he said. "Let's spend the limited funds we have equitably, fairly, and with an objective approach."
For more events like these, visit SPUR's events page.
Stay in touch
Sign up for our free newsletter