Bicycling
SPUR Talk: Housing Lessons from Vienna
11:22 AM PST on January 11, 2023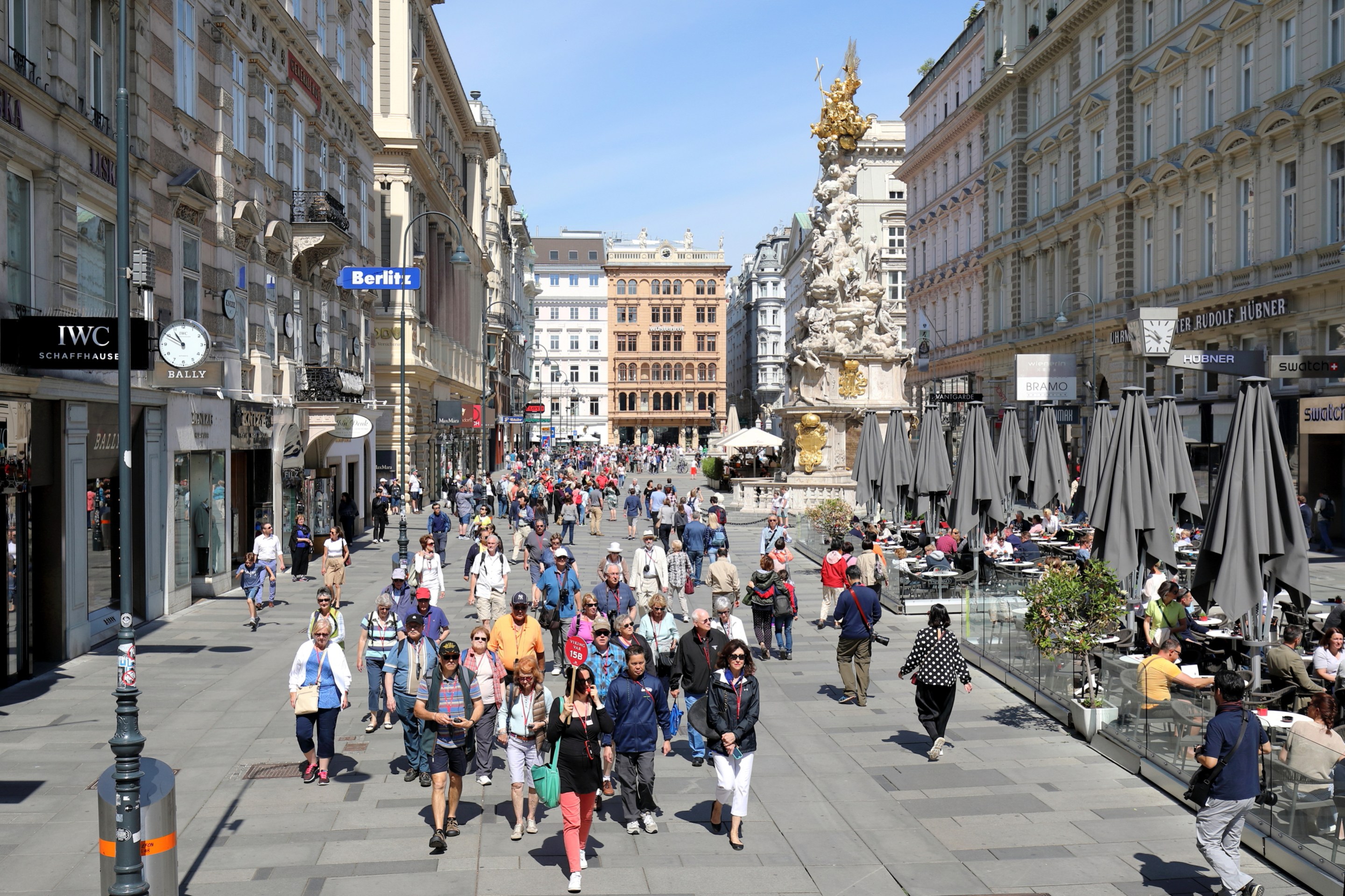 Note: GJEL Accident Attorneys regularly sponsors coverage on Streetsblog San Francisco and Streetsblog California. Unless noted in the story, GJEL Accident Attorneys is not consulted for the content or editorial direction of the sponsored content.
Vienna has a population of close to two million. It has about a million housing units. San Francisco has a population of about 887,000. But it only has 340,000 units. San Jose's ratio of housing to population is even lower, as seen in the chart below.
That was a key takeaway from a recent study trip taken to Vienna by Bay Area officials. And it points to one of the fundamental reasons why San Francisco housing costs are so high, and why it has roughly four times the number of homeless people than Vienna, even though its overall population is less than half. That because "Vienna's been working on making housing more affordable for 100 years," explained Helmi Hisserich with the Global Policy Leadership Academy, which participated in the study trip, during a SPUR talk on Vienna's social housing policies. "They have the most affordable housing of any large city in Europe. As a consequence, the crime rate is low, and it's a fun and active city to live in."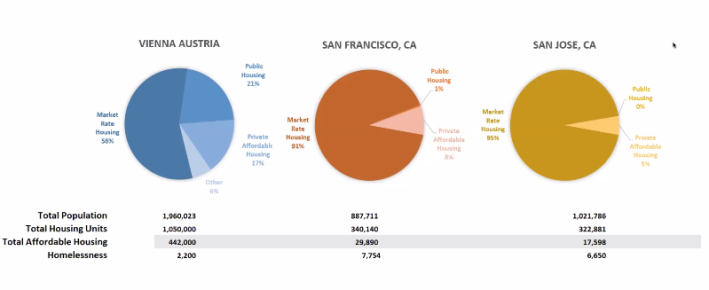 But Vienna's situation was not always so rosy. In fact, its progressive and successful housing policies have their roots in the slums of the early 1900s. "A hundred years ago, Vienna had a terrible homeless crisis, with 35,000 homeless," said Hisserich. The city was dominated by slums and overcrowding. Many people rented beds by the day. They also had an influx of un-housed people from the far reaches of the Austrian-Hungarian empire.
"The first social housing was built in 1922," explained Hisserich. "Five years after 1922, the government built 65,000 units of social housing, pushed by a coalition."
That coalition consisted of women - who gained the right to vote in 1920 - immigrants who had self-built houses on public land, and labor unions. A cultural norm developed where housing was viewed like roads, sewers, and police: things that don't happen without significant government involvement and support. "Vienna today has 220,000 units of public housing, owned by the city," she said. "There's a tradition for social housing."
But social housing isn't viewed the way it is in American cities and it doesn't look like housing "projects." It's built to the same standards as market-rate housing, and it's available to the middle class. "If you earn 200 percent of the median income you can still qualify for social housing," said Hisserich.
Social housing is built adjacent to public recreational areas. And, to assure that everyone has at least some outdoor space, balconies are required and universal. Income levels are mixed together as much as possible, to keep things diverse. "You can't tell a person's income by their address," says Michael Ludwig, the Mayor of Vienna, as quoted in Hisserich's presentation.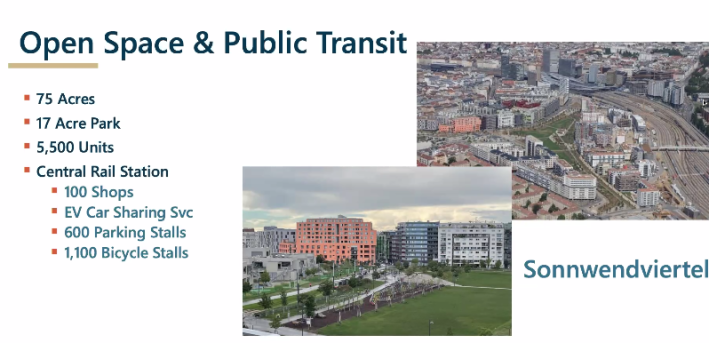 And this part will be especially sweet music to Streetsblog readers: when the city of Vienna starts a new, planned community, the first thing they build is a train station and a tram to service it. Bike parking is provided. Car sharing is planned. But they do not provide car parking with the housing. If people want to buy a car and keep it near their home, they can, but they must pay to store it in a separate, commercially run garage.
In other words, parking is market rate, but housing is not. That is the inverse of California's situation, where housing for cars, instead of people, is "free," heavily subsidized, or required by the government.
Moreover, an income tax dedicated to housing assures a "very predictable flow of capital," said Hisserich. And since housing isn't such a huge percentage of income, it's rare for people to own their homes. Instead, "people chose to be renters because home ownership isn't seen as a wealth builder," said Ruby Bolaria Shifrin, with the Chan Zuckerberg Initiative, another of the panelists who participated in the study trip. People remain in the same apartments for generations. The housing authorities don't worry about continually verifying that people qualify for the discounted housing they live in--tenants qualify once and if they start to earn more money they aren't pressured to move.

Carol Galante with the Terner Center for Housing Innovation, another of the panelists, said that despite all the social benefits, developers still manage to make a profit. One reason is simple: they don't have to also build housing for cars. Daniel Adams with the San Francisco Mayor's Office said there was a lot to learn from Vienna--for example, the Viennese practice of putting in transit first when planning brand new communities. "I think that's potent for us to think through," he said.
For more events like these, visit SPUR's events page.
Stay in touch
Sign up for our free newsletter