GJEL1
Guest Post: Franklin Street Project Highlights City Leadership Failures
3:49 PM PDT on March 13, 2023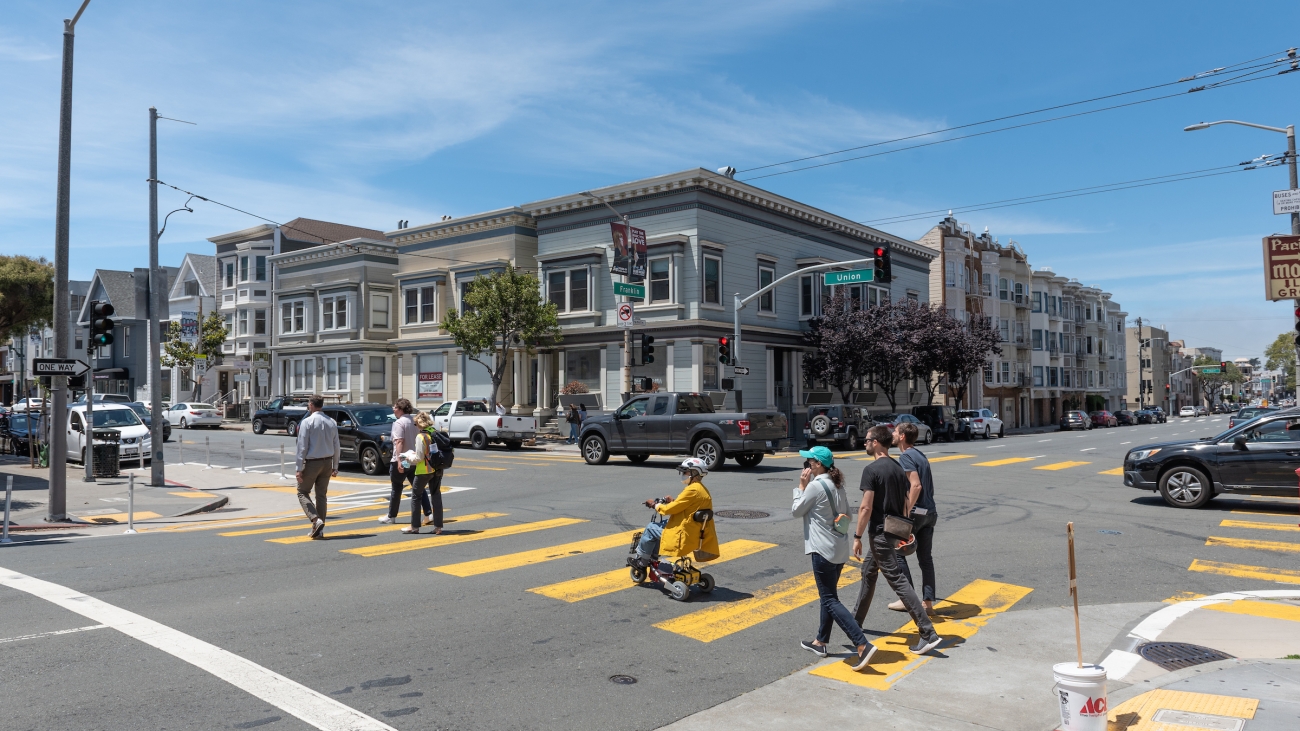 Note: GJEL Accident Attorneys regularly sponsors coverage on Streetsblog San Francisco and Streetsblog California. Unless noted in the story, GJEL Accident Attorneys is not consulted for the content or editorial direction of the sponsored content.
San Francisco, despite being a dense and small city, is not a safe place to move around in. Last year 37 people were killed on our streets, the second-highest tally since detailed record-keeping began.
That's despite our stated commitment, and significant investment in Vision Zero, a program to "create a culture that prioritizes traffic safety and to ensure that mistakes on our roadways don't result in serious injuries or death."
Anybody who knows this city and the history of its streets knows that commitment is just talk.
The arterial that I watch closely is Franklin Street, which stretches from Market Street to Bay Street. Franklin is densely packed with apartment buildings, schools, and Churches. 80 years ago the roadway was widened and sidewalks reduced so it could host three-to-five lanes of high-speed northbound traffic.
The design encourages speeding and turned it into a death trap.
That shows in the data: it's been on the city's high-injury network (the roads that account for the majority of traffic deaths and injuries) for years, and in fact the number of blocks of Franklin on the high injury grew when the map was updated in 2022.
Government officials know the street is dangerous, but the response is invariably vague and noncommittal. There was never a sense of urgency for making it safe.
In November 2021 the inevitable happened–a driver killed a pedestrian at Franklin and Union, right in front of Sherman Elementary.
The fatal collision at Union and Franklin is devastating and I share the community's outrage over this senseless loss of life. pic.twitter.com/UnUpQGv7UD

— Catherine Stefani (@Stefani4CA) November 11, 2021
This tragedy was met with the right rhetoric, as in the above Tweet from Supervisor Catherine Stefani.
But what did we get for Franklin's "quick" build safety project?
It took a year of planning, outreach, and study, for a project that's watered down to almost nothing. A promised lane reduction to lower speeds was removed. The only treatments are paint and plastic. And the build covers less than half of Franklin Street. It doesn't even cover most of the high-injury blocks.
For this, we are asked to celebrate, be grateful, and not ask for anything more. This has been the story with most of San Francisco's projects.
It's clear that San Francisco's government and administration are just not equipped or organized in a way to achieve Vision Zero. It's clear that something radical has to happen before our city can live up to the values stated in the city's charter: "Decisions regarding the use of limited public street and sidewalk space shall encourage the use of public rights of way by pedestrians, bicyclists, and public transit, and shall strive to reduce traffic and improve public health and safety."
But radical change can happen. Cities with previously notorious traffic and a poor record for safety have shown the way. Look at the recent sea change in Paris or Berlin, where bike lanes and street narrowing and even full street closures were done in fast succession during the COVID crisis. Those cities are showing us the way.
It will take visionary, aggressive leaders to change San Francisco. It will take a city administration that really wants our city to be safe. It will require new people who have the ability to think big and get things done across the whole city.
I have to believe there's a new generation of leaders for San Francisco with the tenacity it's going to take to really achieve Vision Zero. I know they must be out there somewhere. I am eager to meet them and help them solve these problems. 
Stay in touch
Sign up for our free newsletter