Bicycling
SF's Freeway-Like Streets Increase the Risk From Distracted Drivers
6:08 PM PDT on March 31, 2015
Distracted driving in SF is no accident. A new map of cell phone use by drivers in SF reveals where drivers are most likely to use a mobile device, increasing the risk of crashes and injuries, and the pattern is unmistakable.
There's one thing that streets with high rates of distracted driving have in common: They're designed like freeways.
According to the map created by Zendrive, which "measures driving safety using only the sensors on a driver's phone," the streets with the most mobile device use by drivers were overwhelmingly designed as routes to freeways, leading to on-ramps and off-ramps, especially along the Central Freeway that divides the South of Market and Mission districts.
Sections of Duboce, Folsom, Eighth, 10th, and the interchange at Brannan and Division Streets all ranked in the top 10 of distracted driving streets.
Also high up the list were Fell and Oak Streets and 19th Avenue, which act as surface highways. Fell and Oak whisk west side drivers to and from the Central Freeway, and have synchronized traffic signals so drivers don't have to worry about stopping often.
It stands to reason that wide, multi-lane streets designed to lull drivers into "cruise-control" mode fail to keep their attention. As Tom Vanderbilt wrote in his book Traffic: Why We Drive the Way We Do, "The relative ease of most driving lures us into thinking we can get away with doing other things."
In a dense urban setting like SF, distracted driving is often deadly for people walking and biking, as Zendrive wrote in a blog post:
Within the course of our work, we've tracked 1100 drivers over 37,500 miles across San Francisco, and measured cell phone use while driving, among many other safety metrics such as speeding or rapid acceleration. Any of these behaviors can be the cause of a collision with a bike, but distracted driving due to phone use while driving constitutes a special hazard to cyclists.
Zendrive created a map that overlays its phone use data with bike traffic and 10 recent years of collision data. SF's busiest bicycling streets, like Market and the Wiggle, don't see high levels of distracted driving for the most part. That's no surprise, either -- Market has plenty of street life to grab the attention of the few drivers who use it.
But Zendrive's map did show some spots where drivers frequently use phones and cross major bike routes, such as Valencia and Duboce Streets. A driver barreling down Duboce destroyed a bike corral in 2012.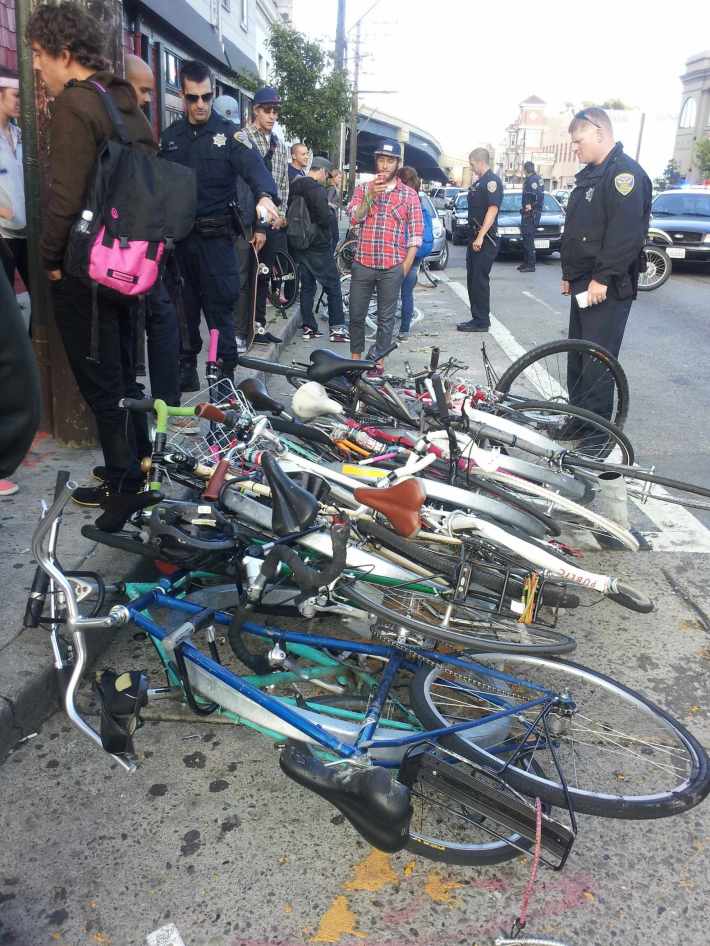 At many Fell Street intersections along the Panhandle, people on bikes are at heightened risk from distracted drivers. At Fell and Masonic Avenue, the SFMTA had to install a second left-turn signal arm before drivers stopped crashing quite so frequently into people walking and biking in the Panhandle crossing. Drivers who were caught by the red-light camera complained that they didn't see the original traffic signal.
"This study underscores the need for a comprehensive, safety-first approach on our city streets," said Tyler Frisbee, policy director of the SF Bicycle Coalition. "San Francisco can reduce traffic deaths and serious injuries to zero, which is what the city has committed to with a concrete approach known as Vision Zero. Encouraging everyone to pay attention is a crucial part of improving our streets, and hopefully this study will re-emphasize the need to prioritize safety when designing our roadways."
Zendrive didn't overlay its distracted driving map with pedestrian injuries, but it has much in common with the city's WalkFirst map, which marked the streets with the highest rates of pedestrian crashes. Both maps highlight many of the same speeding-plagued streets in SoMa and near freeway ramps.
Aaron was the editor of Streetsblog San Francisco from January 2012 until October 2015. He joined Streetsblog in 2010 after studying rhetoric and political communication at SF State University and spending a semester in Denmark.
Read More:
Stay in touch
Sign up for our free newsletter