Bicycling
Return of the Scooter
3:13 PM PDT on September 21, 2018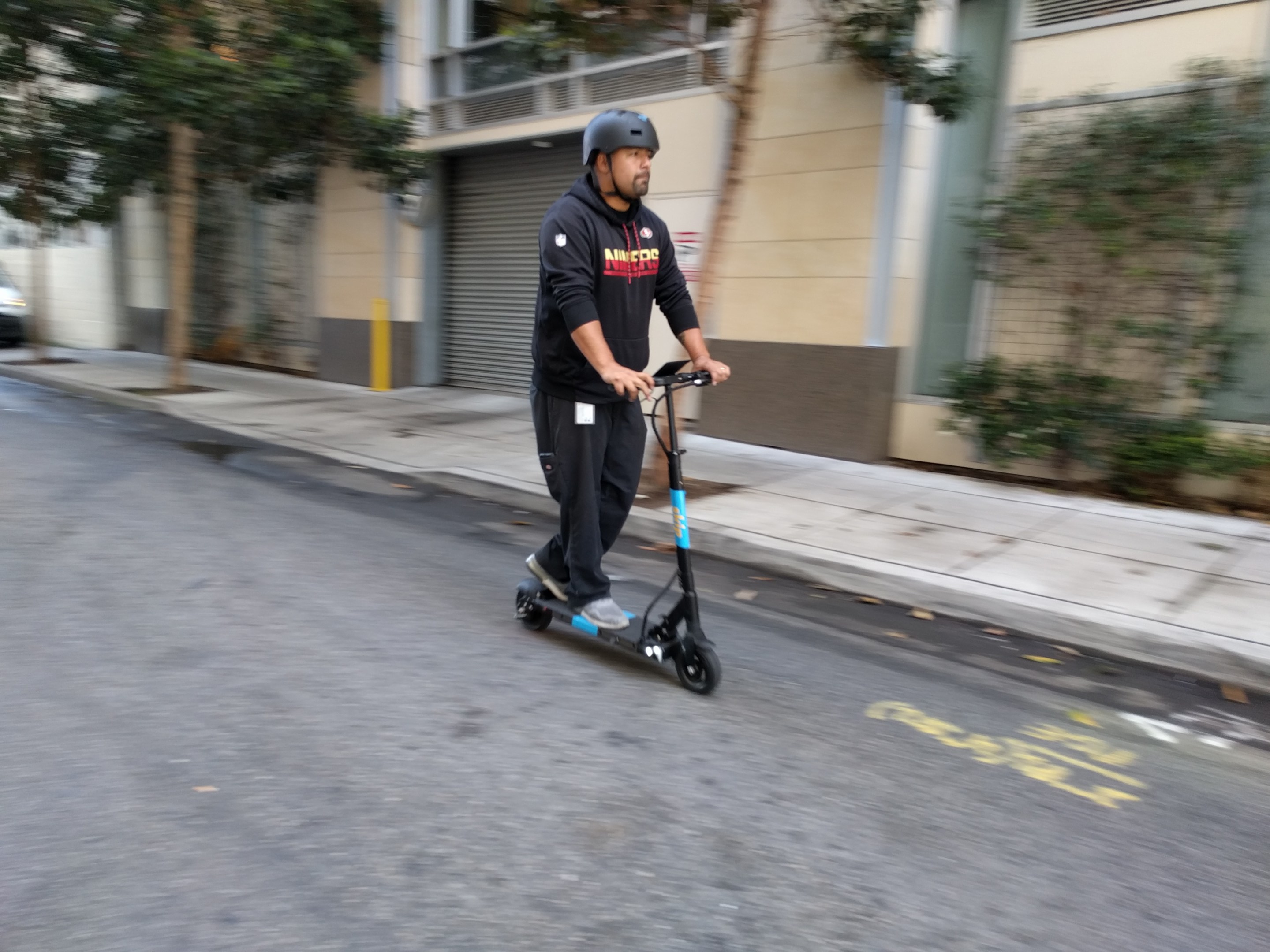 Scooters are on their way back to the streets of San Francisco. Skip and Scoot are set to roll out their 'micro mobility' machines in a few weeks.
But getting 625 scooters ready to roll is no small task (that's Skip's allotment under the new permit system). Streetsblog ran into Muriel MacDonald of Skip at last week's People-Protected bike lane protest at the Climate Summit. Given all the controversy over scooters, Streetsblog thought it would be a good idea to get a look at the innards of a scooter company's operation in San Francisco--and take a test ride.
Skip's warehouse is centrally located, but they've asked Streetsblog to keep the exact location secret to avert theft. They are currently accepting deliveries of off-the-shelf scooters, which they then modify with their electronics to regulate speed, signal its location, and get it ready for deployment.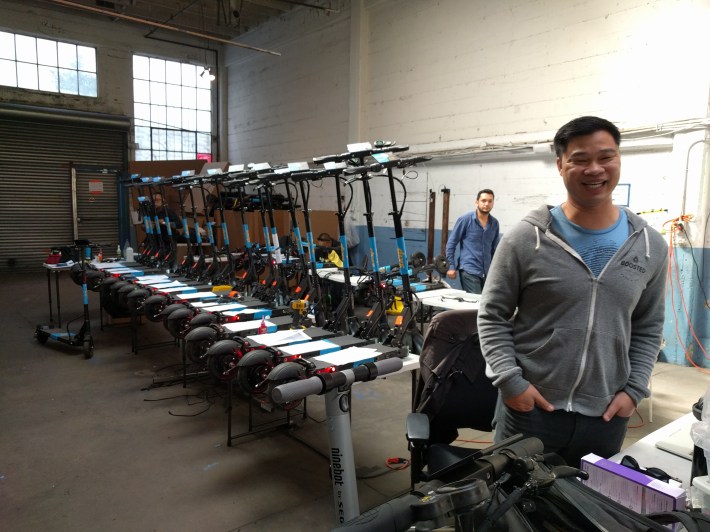 The company currently operates in Portland, the District of Columbia, San Jose, and Oakland. In Portland and DC they also operate under a cap, as they will in S.F. "Some cap is helpful until we see what's a good number," said co-founder Matt Tran. "If it's unlimited, you get a mess."
The "mess" he's referring to is the blowback companies such as Bird and Lime received when they dumped scooters on the streets and sidewalks without a permit system in place, angering some advocates, including Walk San Francisco.
MacDonald explained that their scooters have "tip over protection" so they can track if a scooter has fallen over and might be blocking the sidewalk. In keeping with the permit requirements, they will offer incentive programs for good behavior, for example a free ride to customers who park their scooters well ten times in a row. And they plan to ban anyone who gets more than a couple of infractions, such as riding on the sidewalk. Ride drunk or commit a crime while renting a scooter, and you're banned the first time and forever (Streetsblog can only dream the DMV will follow this example for motorists).
I took one of the scooters for a test ride. Its suspension is superior to some other e-scooters, and is more stable on rough pavement. It also accelerates smoothly. The one negative is that the throttle is on the right and is positioned and feels just like the rear-wheel brake on a bike. I didn't have any problems during a short test spin, but that throttle is exactly where I'd be tempted to squeeze if making a panic stop. Skip might want to consider a throttle that can't be confused with a bicycle brake.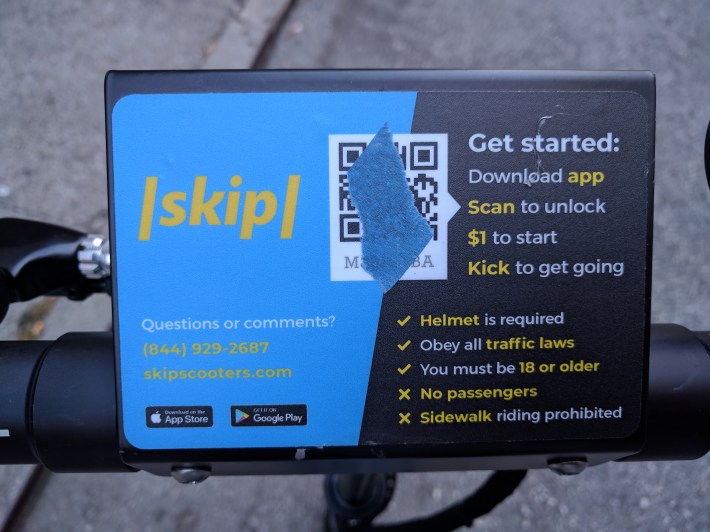 Let's hope that will get sorted (or will turn out to be an unfounded concern). MacDonald said they might switch to a different throttle. She hopes riders of scooters and other forms of "micro-mobility," such as bikes, e-bikes, roller skates, skate boards, or whatever, can collaborate to get safe bike lanes around the city--taking some space back from the omnipresent automobile. "We want to build a bigger, broader coalition" for safe streets, she said.
Of course, now that the city has worked out its permit program, Streetsblog can only hope they'll work as hard keeping the sidewalks clear of other vehicles, including their own cars: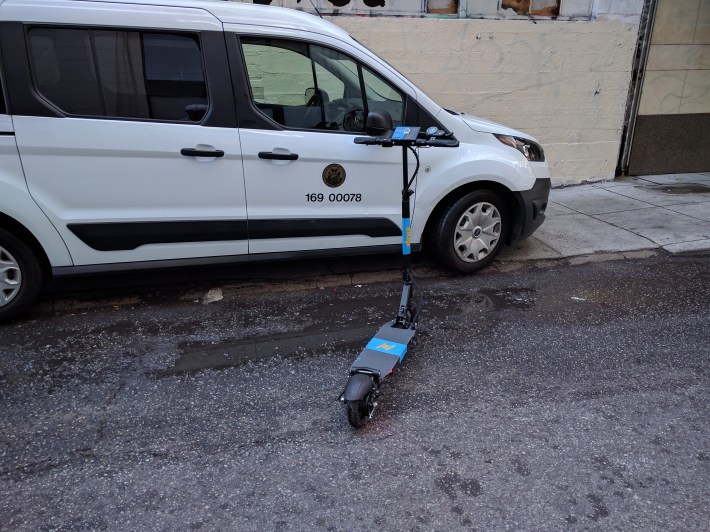 Stay in touch
Sign up for our free newsletter