Vision Zero
San Francisco's World Day of Remembrance
City marks another year of tragedy with Vision Zero more elusive than ever
4:11 PM PST on November 20, 2023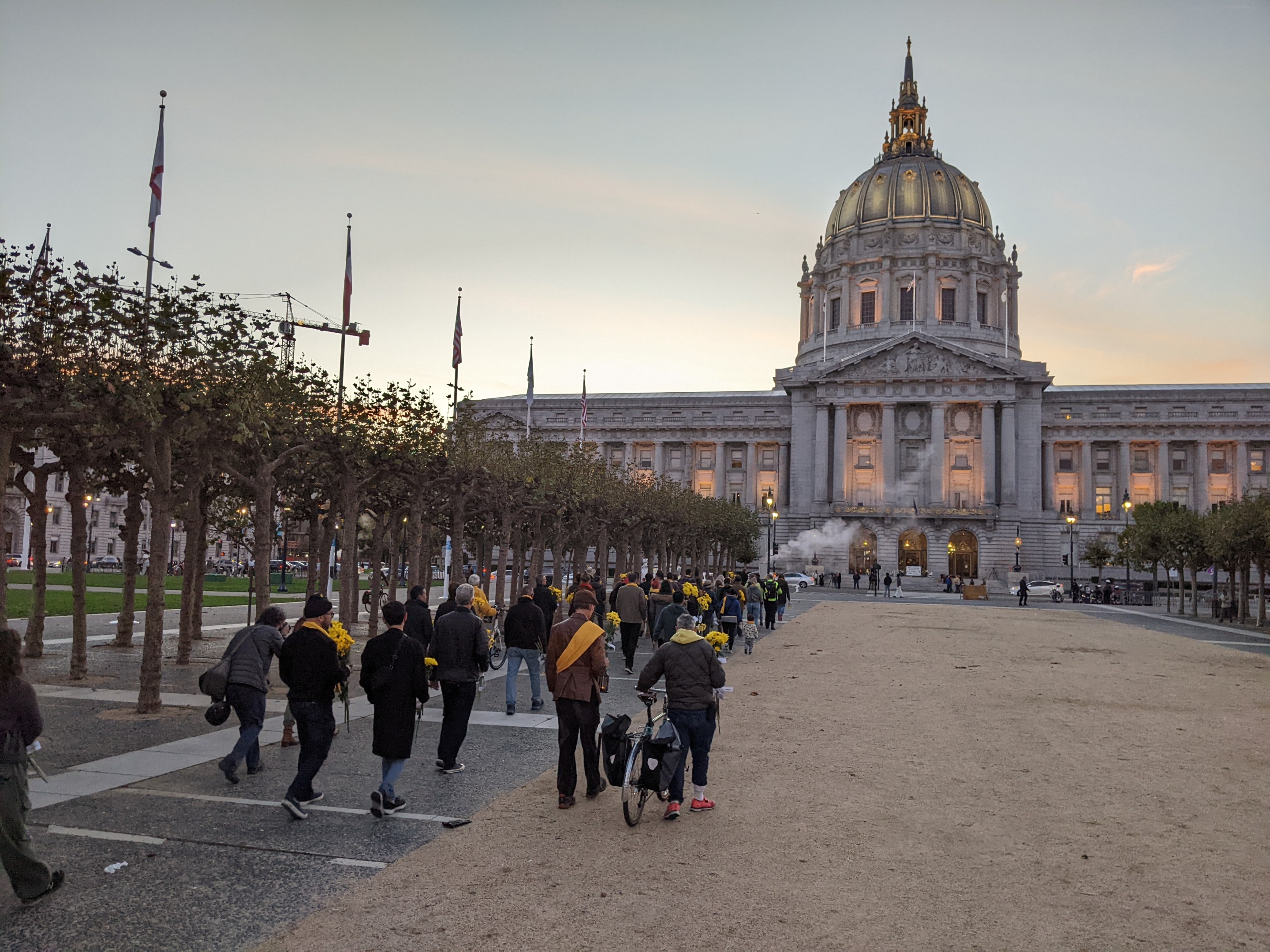 Note: GJEL Accident Attorneys regularly sponsors coverage on Streetsblog San Francisco and Streetsblog California. Unless noted in the story, GJEL Accident Attorneys is not consulted for the content or editorial direction of the sponsored content.
Yuriy Pestov wasn't aware there was a vigil Sunday night in front of San Francisco City Hall for the victims of traffic violence. He was just riding by, but, unfortunately, he had good reason to change his plans to join the hundred or so families, friends, and victims of collisions on San Francisco's streets. "I was riding my bike on Market near 101 in April when I was right hooked," Pestov told Streetsblog. "I suffered a concussion."
Pestov, an artist who is originally from Saint Petersburg, Russia, said he felt safer riding on the narrow streets of his home city, sometimes squeezed alongside giant trucks, than he does now in San Francisco. "Drivers were less aggressive in Russia."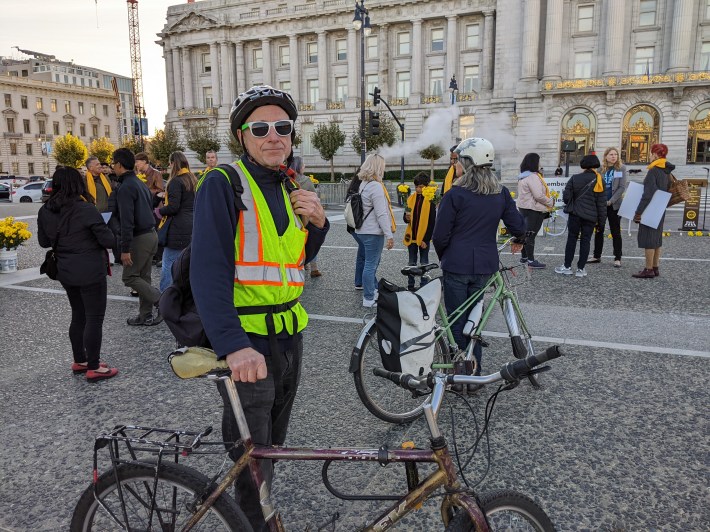 Alia Gonzales came to the vigil intentionally, because four months ago her 28-year-old friend Tom McKean was killed at 18th and Van Ness by a hit-and-run driver. He was just walking home. Gonzales found out about the event through Walk San Francisco, one of its sponsors. "Cameras would help solve this," she said, referring to the recent passage of A.B. 645, which authorized San Francisco, Oakland, and San Jose to pilot speed enforcement cameras.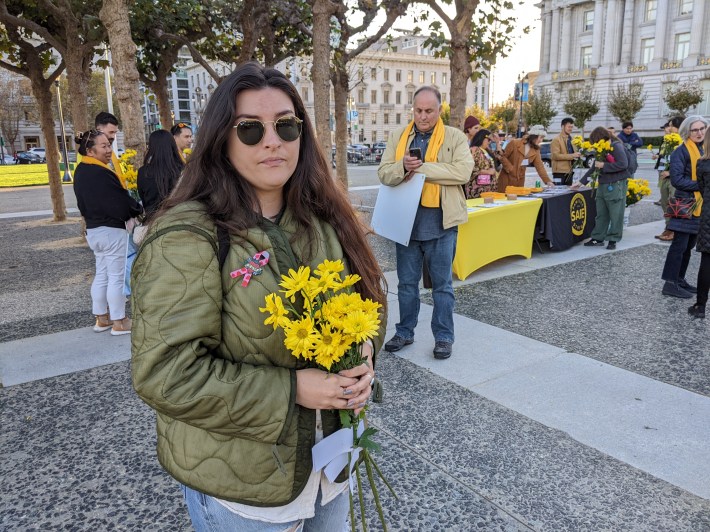 Not everyone at the vigil had a direct connection to traffic violence: many came simply because they care about safe streets and want the carnage to stop. "I'm a fan of slow streets in general and alternate transportation," said real estate agent James Cullen. He said he'd like to see the streetcars restored citywide, so people have alternatives. "Cars cause more problems than they solve."
"I'm here today to take a moment to reflect on all the lives lost," Danny Sauter told Streetsblog. "We've got to do a whole lot more to end traffic fatalities and violence in San Francisco."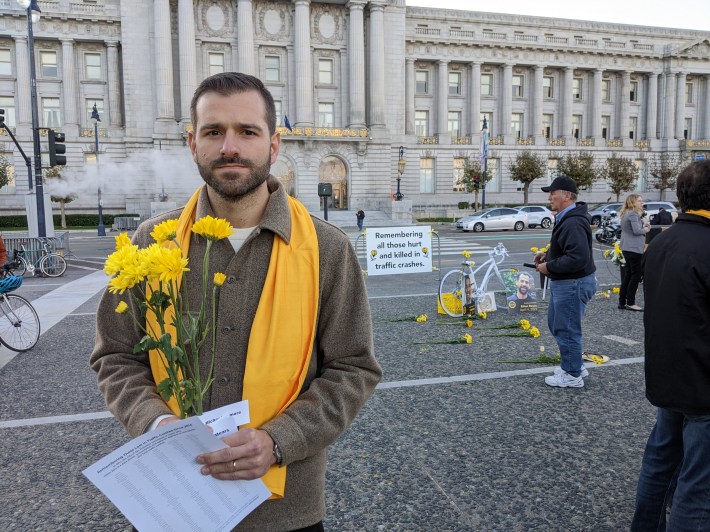 Sauter, who is running for District 3 Supervisor, was joined by several long-established politicians familiar to supporters of safe streets. "I come each year to honor the victims of our failure to live up to Vision Zero goals," said District 5 Supervisor Dean Preston.
"Beautiful lives cut short ... empty chairs at the dining room table, this time of year it is especially difficult," said Walk San Francisco's Jodie Medeiros in her address. "We're here to demand change."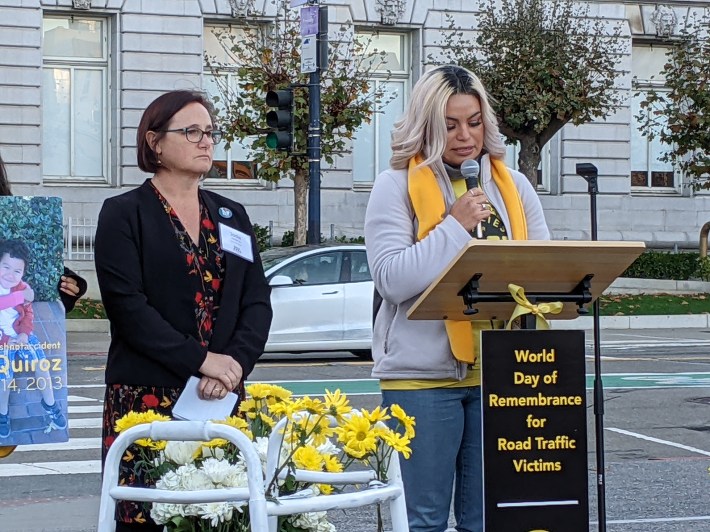 Medeiros and other speakers expressed awe at the strength of survivors for reliving their trauma by joining the effort to get speed cameras and other safety measures passed. "We have to 'Stop de Kindermoord,'" she said, referring to the Dutch "stop the child murder" movement of the 1970s to end traffic violence. Medeiros and others joined in the frustration that ten years after San Francisco signed on to its Vision Zero pledge to end traffic violence, it has failed miserably, with a record 39 traffic deaths in 2022 and no progress in sight for 2023.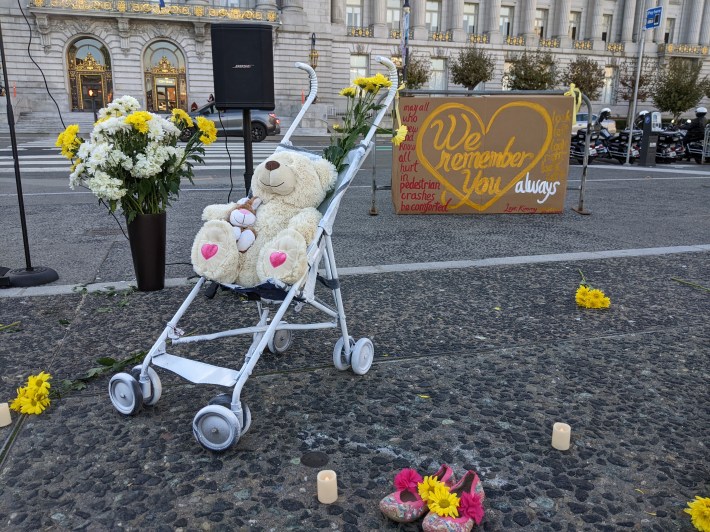 Those numbers translate into real people, many of them only children; their lives cut short by reckless driving and streets engineered to prioritize parking and automobile throughput over safety.
"Her interest in soccer was inexplicable," said a teary Elizabeth Chavez, whose five-year-old daughter Aileen was killed in a crosswalk by a driver in San Jose ten years ago. "Every night before going to bed she aligned her soccer ball and uniform."
"I can not imagine the pain of reliving such a devastating loss," said State Senator Scott Wiener. "These deaths are all avoidable." Wiener told the crowd this issue is particularly frustrating for him and other politicians friendly to safe streets because the answer to the problem of traffic violence is clear.
Wiener's frustration is well founded. The Dutch and a handful of other countries, after all, have already figured out how to build safe streets and achieve Vision Zero. The answers in terms of policies and street designs are there for cities to implement--they just repeatedly choose not to. "This is not an issue where we don't know what to do, yet nothing happens, or we get half-measures because of politics," he said.
The Day of Remembrance is a reminder of the consequences of those politics. More pictures from the vigil below.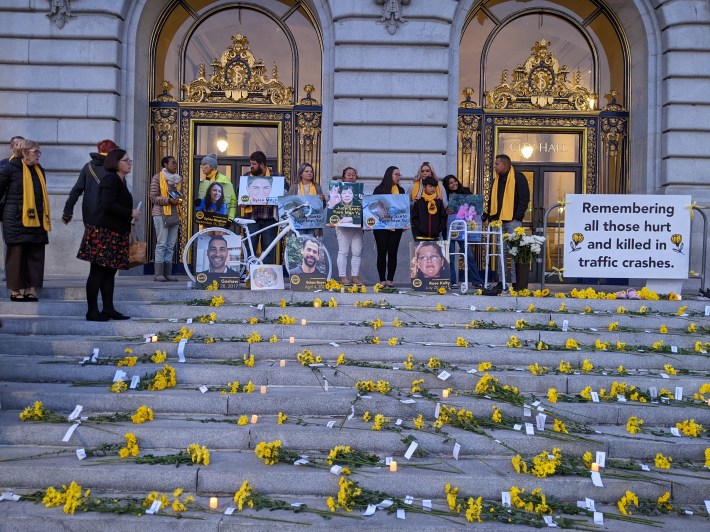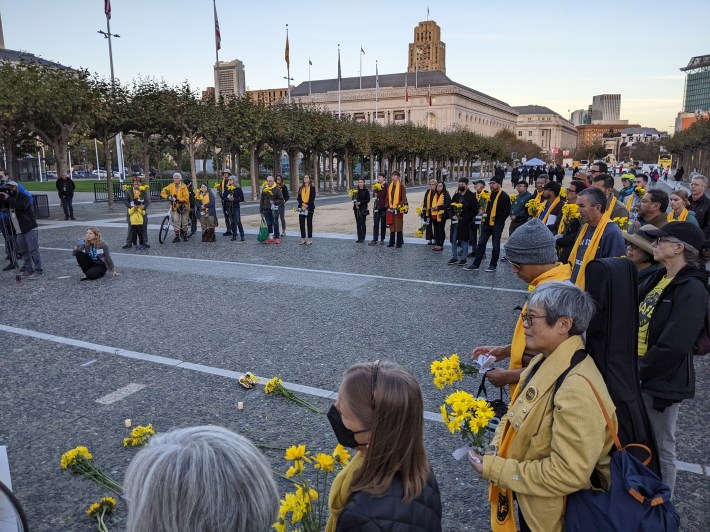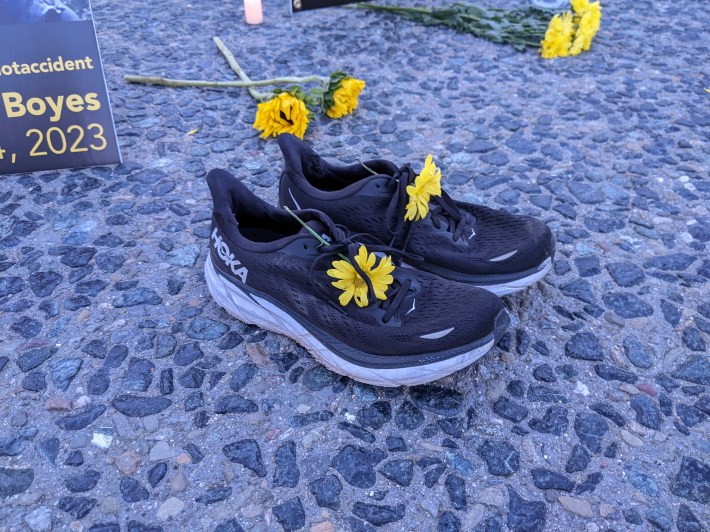 Stay in touch
Sign up for our free newsletter